Deluxe Wilson Recorder
Clip to Belt, Holds 12 Hours of Voice Recordings
Item Number: 1142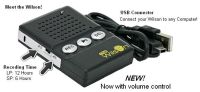 More Pictures
Listen to this Product
Read the Instruction Sheet
Product Features
Your very own recording companion; just clip and go.
Versatile, portable, durable, state-of-the-art.
Slim and lightweight, about the size of your cell phone.
Boasts superb digital recording quality.
Headphone jack and large built-in speaker.
Adjustable volume and pause feature.
Simple operation with only 6 controls.
Beeps provide audible feedback when buttons are pressed.
Records multiple messages up to 12 hours.
Specially designed for the blind, no display screen.
Comes with removable belt clip.
Features one-year Manufacturer's Limited Warranty, and 128 megabytes of internal memory.

Product Description:
It's a good thing this unit is so easy to take with you, because it's the most versatile digital recorder you'll ever find. It boasts superb recording quality, a large built-in speaker, simple operation, and only six controls. But wait ... there's more!
The Deluxe Wilson Recorder is about the size of your cell phone, measuring only three inches long and two inches wide. It looks a lot like a pager, and clips easily to your belt, shirt, backpack, car visor, or purse with a strong spring-loaded clip. It can record for up to twelve hours, supports as many different messages as you need, and boasts a volume control. And yes, if you don't need the clip, it can be easily removed to make the unit even smaller to fit in your pocket.
The Wilson recorders are designed specifically for the blind, so they have no display screen. That means there are no confusing menus to get hung up in - they record your voice and play it back at the touch of a button. That's it.
In keeping with that theme, you'll find just six controls on this well-built device. To use, simply slide the Power switch on the left side to On, then find the three raised, round buttons in the middle of the unit. Record is on the left, Play is in the middle, and Delete is on the Right. There are even two small buttons on the right side to adjust the volume and skip between messages. Pause with a tap of Play, or hold down Skip to cycle through your recordings. That's it!
The Wilson™ is a state-of-the-art digital voice recorder that is simple to use, feature rich and made from high-quality components. It comes with a one-year Manufacturer's Limited Warranty, 128 megabytes of internal memory, and takes 2 AAA batteries, which are not included. Talk to the Wilson ... he'll listen! He's your recording companion - just clip and go!
Measures about 3 in. by 2 in. by 1/2 in.
Package Weight: about 4.6 ounces.
(From the Voice Recorders shelf.)