Low Vision Products
Okay - so you've still got enough vision to read ink-print - if it's just made a bit larger. It sounds like our extensive collection of Low Vision Products are for you! In this area, you can pick out your favorite magnifiers, writing guides, bold pens - all those essential daily living aids for anyone who's visually impaired.
Hi there! Thanks for dropping into our low vision clinic. Whether you're just beginning to lose your vision, or expect to be totally blind in a matter of months, we have a variety of helpful tools to make the most of every bit of sight you do have. Come on - give us a few minutes of your time, and we'll show you what we have to offer.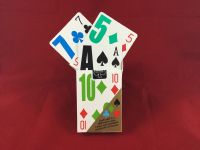 E-Z See Playing Cards
Large Print, High Contrast Cards - Easy to See
Item Number: 1151
$4.49
Tell Me More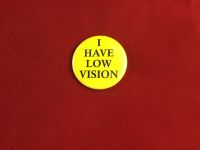 Low Vision Button
Avoid those Awkward Moments When You Need Help
Item Number: 1138
$1.49
Tell Me More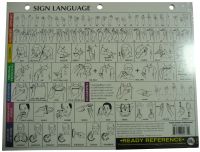 Sign Language Reference Cards, Twelve-Pack
Detailed ASL Reference for the Basics - and Beyond
Item Number: 1238
$9.95
Tell Me More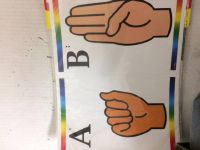 Sign Language Cards with Pictures
Shows Sign Language Alphabet with illustrations
Item Number: 6058
$9.95
Tell Me More

If you've always been a real bookworm, or have to do a lot of studying, you'll be blown away by what a couple of these magnifiers can do for you! We have lighted portable readers, full-page magnifiers, and hand-held magnifiers of all shapes and strengths, lit or not. Go ahead ... Grab one or two of these - and bring the joy back to devouring the printed word, free from all that squinting and eyestrain!

A practical and useful addition to the desk of any visually impaired person is one kind or another of a stand magnifier. Once you find a model that's right for you, you can comfortably work for long periods of time, hands-free, while your magnifier sits faithfully in place. Most of these magnifiers are fully-adjustable, meaning you can position the lens and/or light just so, then turn page after page (or work on whatever else you typically do at home, work or play) while benefiting from premium magnification.

Writing out letters, checks, or quick notes gets a lot easier with these simple yet effective handwriting aids. We've got stationery with raised lines, easy-see pens, and writing templates for all common uses.