Copy Center
There's something else you may want to consider while you're here. Our in-house Copy Center is the one-stop solution for all your Braille production needs. There, you can have your menus or brochures converted into Braille, get Braille embossed on your business cards, and order ADA-compliant Braille signs.
Greetings! Our Copy Center is where Braille finishing begins, and we're ready to help you do just that. Do you want to make a great impression by giving blind clients a business card they can actually read? Are you looking for a service to turn your printed brochures, handouts, menus, and other documents into Braille? Or are you under sudden pressure to make every sign in your building comply with the ADA requirement that it have Braille on it? Well, don't despair. We can help you with all of the above ... quickly and easily. Let's get started, shall we?

First of all, getting Braille added to your business cards has never been easier or more affordable. Send us your pre-printed business cards, and we'll add your contact info in Braille on the back of each card. Blind customers will appreciate being handed a card they can read on their own, and everyone will be impressed with your company's dedication to the needs of those with disabilities.
Now, if you have a short letter you'd like to send to someone in Braille, you might just be able to complete the process right here on our website. Just tell us what you'd like to say, and we'll Braille your message and send it right to you - or directly to the recipient.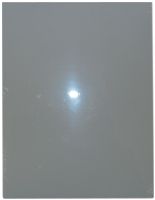 Braille Letter
A Short, Basic Letter, Saying Whatever You Want
Item Number: 1266
$11.95
Tell Me More
Our Braille Printing services make it a snap to get your printed materials translated into Braille. Simply email us your menus, poems, brochures, or other documents. We'll do the rest - and have your Braille copies ready to ship within 24 hours.
We also offer Braille Transcription services for large jobs, such as school textbooks. These types of jobs are considerably more expensive than smaller documents, but we work hard to make sure we have the lowest prices around.
Our Handheld Braille Labeler lets you create adhesive-backed Braille labels - whether you know Braille or not. Making a Braille label that says Exit, Stairs, or Men is as easy as spinning the dial to line up on each desired letter, and squeezing the trigger. Although the labels you make are embossed on plastic labeling tape, they are a quick, easy and affordable way to add Braille to existing signage - aand are fully ADA-complient. The Braille dots from the labels you create can also be easily copied later onto custom-made, engraved signage, if you prefer.
Please note that we reserve the right to refuse any Brailling jobs which, in our sole discretion, contain objectionable or inappropriate content.