Greeting Cards
Make the gift for your blind friend extra special! Pick up one of our affordable, personalized cards in Braille and Print for any holiday or occasion.
3 products on this shelf.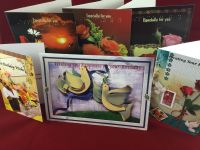 Assorted Braille Greeting Cards
Pack of Six Different Cards for Special Occasions
Item Number: 1264
$13.95
Available Styles: Birthday, Thank You, or Christmas
Tell Me More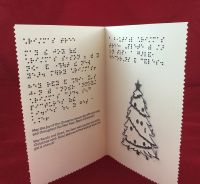 Raised-Picture Card
Fully Tactile, Personalized Greeting Card
Item Number: 1265
$14.95
Available Designs: Birthday Balloons, Thanksgiving Home, Thanksgiving Turkey, Thanksgiving Pilgrims, Christmas Tree, Christmas Star, or Christmas Snowman
Tell Me More
Here's the perfect little something for anyone you know ... of any age! Want to send someone a card to let them know you're thinking about them? Or would you like to enclose it with a gift to make it extra special? In either case, our top-of-the-line Braille greeting cards are just the thing.
All of the below greeting cards are professionally-printed with the highest-quality digital photography. They cost $7, and come with a matching envelope. Each card boasts a full-color picture on the front, and a pre-written message on the inside. In addition, you can always type a short note to go along with the card, and we'll print and Braille that right along with the regular message.
So let's get started. First, please pick an occasion from the following list. Then, we'll show you the different cards we have in that category.
Happy Birthday
110 (across 5 categories) to choose from
Friendship
17 to choose from
Thinking of you
18 to choose from
Encouragement
45 to choose from
Congratulations
16 to choose from
Graduation
12 to choose from
Thank You
18 to choose from
Goodbye
3 to choose from
Retirement
13 to choose from
Get Well
15 to choose from
Sympathy
13 to choose from
Valentine's Day
27 to choose from
Memorial Day
8 to choose from
Easter
25 (across 2 categories) to choose from
Mother's Day
19 to choose from
Father's Day
16 to choose from
Happy Thanksgiving
5 to choose from
Happy Holidays
88 (across 5 categories) to choose from
Merry Christmas
30 (across 2 categories) to choose from
New Year
4 to choose from
Love
10 to choose from
Romance
8 to choose from
New Baby
43 (across 2 categories) to choose from
Marriage
44 (across 3 categories) to choose from
Miscellaneous
6 to choose from