Braille Chocolate Mold
Make Your Own Braille Chocolate Cards
Item Number: 1220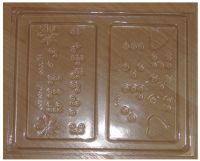 Larger Picture
Read the Instruction Sheet
Product Features
Plastic molds produce chocolate bars with both print and Braille.
Each mold provides 2 chocolate bars.
Finished chocolate bars weigh approximately 4 oz.
and measure 6.
5" X 4".
Bars can be prepared in minutes, and are ready in under an hour.
3 molds to choose from.

Product Description:
Looking for Braille greeting cards? Are you good in the kitchen? Well ... Do we ever have a great idea for you!
For the price of a single birthday card, you can get a plastic candy mold that'll let you make an unlimited number of chocolate greeting cards. Simply melt a few baker's chocolate squares, pour the liquid chocolate into the mold, and after about half an hour in the fridge, you'll have two mouth-watering chocolate bars - complete with the message of your choice spelled out in delicious-looking Braille dots (as well as the raised-print equivalent)! (The chocolate cards you make will weigh approximately four oz. and measure 6.5" X 4", so they'll keep anybody snacking for quite a while.)
This is perhaps the sweetest gift you'll give all year! And we're willing to bet it's also one of the most unique. After all, chocolates come in all shapes and sizes; all sorts of different flavors ... But who ever heard of a chocolate bar with Braille on it? (Note: these candy molds are not dishwasher-safe.)
Measures about 8-1/4 in. by 10 in. by 3/4 in.
Package Weight: about 1.8 ounces.
Now, we have three different molds to choose from. Each mold makes two separate chocolate cards with different messages - two for the price of one. So, which set of greetings would you like?
Happy Birthday and Love You
Temporarily out of stock.
Usually ships in Late April.
Item Number: 1220-1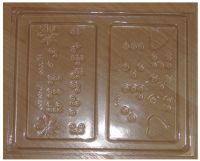 Happy Birthday has 2 big flowers on it, Love you makes a bar with 2 big hearts
Have a Nice Day and Thank You
Item Number: 1220-2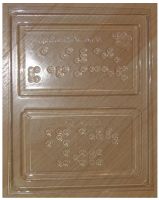 Have a Nice Day has a picture of a bird on a branch
Merry Christmas and Happy Holidays
Item Number: 1220-3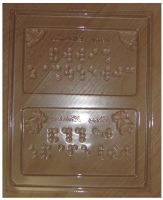 Merry Christmas has a picture of holly with berries, Happy Holidays makes a bar with 2 big bells.
Continue Shopping
(From the Braille Novelties shelf.)
Related Products: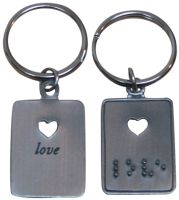 Braille Keychain
Sturdy Metal Keychain with Braille and Print Word
Item Number: 1218
$4.95
Available Words: Love, Live, Peace, Hope, Faith, Jesus, or the Entire Set (for $24.95)
Tell Me More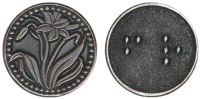 Braille Pocket Token
Unique Coin with Raised Picture and Braille Word
Item Number: 1219
$1.95
Available Words: Friend, Love, Faith, Lord, or the Entire Set (for $6.95)
Tell Me More

Braille Letter Opener
Adorible, Cat-Shaped Handle, Saying Keep in Touch
Item Number: 6052
$4.95
Available Styles: Keep in Touch, or Best Friend
Tell Me More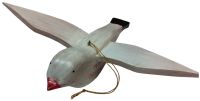 Braille Mantel Piece Ornament
Large, Free-Standing, Hand-Carved Decoration
Item Number: 6051
$9.95
Available Messages: Merry Christmas, Season's Greetings, Let there be Light, or the Entire Set (for $19.95)
Tell Me More