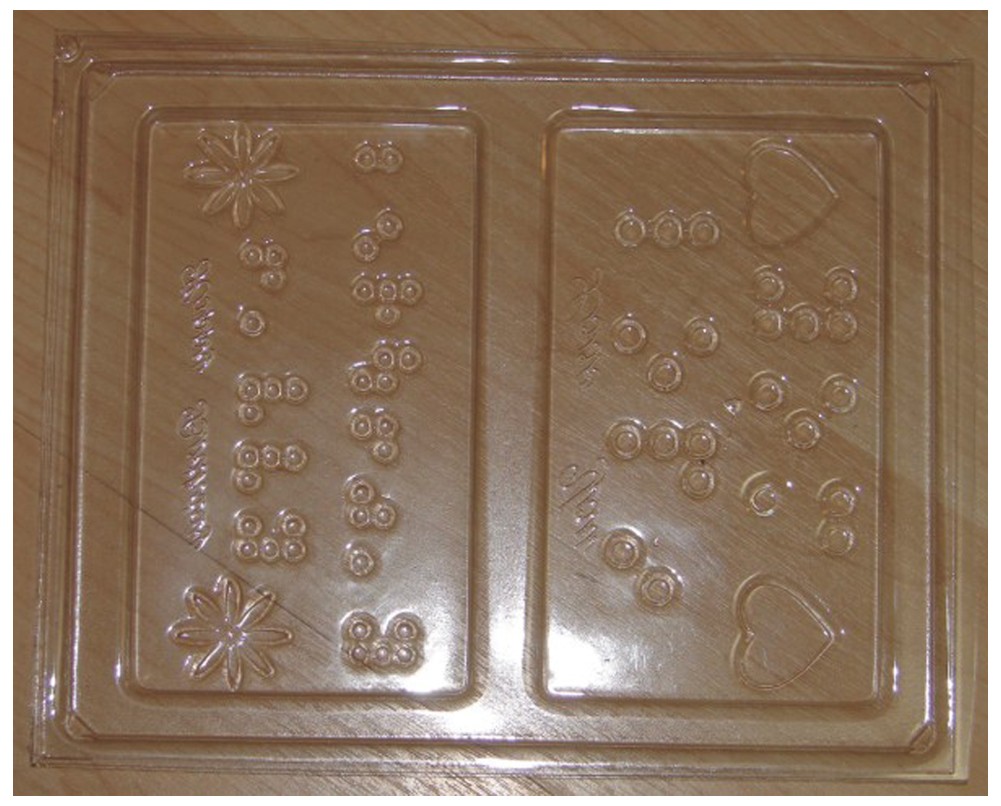 Braille Chocolate Mold
Item Number: 1200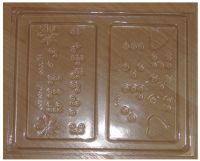 Happy Birthday and Love You
Item Number: 1200-1
Happy Birthday has 2 big flowers on it, Love you makes a bar with 2 big hearts.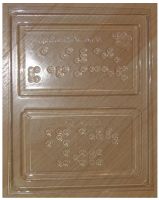 Have a Nice Day and Thank You
Item Number: 1200-2
Have a Nice Day has a picture of a bird on a branch.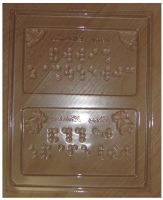 Merry Christmas and Happy Holidays
Item Number: 1200-3
Merry Christmas has a picture of holly with berries, Happy Holidays makes a bar with 2 big bells. Entire Set
Item Number: 1200-4
All three of these choices are so popular, we thought we'd give you the option of just getting them all now. You even save $2.
All three of these choices are so popular, we thought we'd give you the option of just getting them all now. You even save $2.
Product Features
Plastic molds produce chocolate bars with both print and Braille.
Each mold provides 2 chocolate bars.
Finished chocolate bars weigh approximately 4 oz.
and measure 6.5" X 4".
Bars can be prepared in minutes, and are ready in under an hour.
3 molds to choose from.
Measures about 8-1/4 in by 10 in by 3/4 in.
Package Weight: about 1.8 ounces.
Product Description
Looking for edible Braille greeting cards? Are you good in the kitchen? Well ... Do we ever have a great idea for you!
For the price of a single birthday or Christmas card, you can get a plastic candy mold that'll let you make an unlimited number of chocolate greeting cards. Simply melt a few baker's chocolate squares, pour the liquid chocolate into the mold, and after about half an hour in the fridge, you'll have two mouth-watering chocolate bars - complete with the message of your choice spelled out in delicious-looking Braille dots (as well as the raised-print equivalent)! (The chocolate cards you make will weigh approximately four oz. and measure 6.5" X 4", so they'll keep anybody snacking for quite a while.)
This is perhaps the sweetest gift you'll give all year! And we're willing to bet it's also one of the most unique. After all, chocolates come in all shapes and sizes; all sorts of different flavors ... But who ever heard of a chocolate bar with Braille on it? (Note: these candy molds are not dishwasher-safe.)
Product Directions
Directions for the Braille Chocolate Mold From Future Aids, The Braille Superstore.
Using one of our large chocolate molds is easy. The only thing you need now is some chocolate, candy, or soap to pour into the mold. Today we'll talk about making chocolate bars, but these directions should work for lots of other types of bars too.
It's not difficult to find raw chocolate. You can get started with chocolate chips sold at your local grocery store, though they are a bit rich. A better solution is to pick up some of the bakers chocolate squares, and you can often find them at a reasonable price. But be creative. One customer picked up a cartful of half-priced Easter bunnies shortly after the holiday, and had enough chocolate for the year to come.
Perhaps the easiest way to melt the chocolate is in the microwave. Just chop the chocolate into smallish cubes, and cook in the microwave for a minute. Remove the bowl from the microwave, stir the contents well, and cook for another 30-60 seconds. Repeat the process until the chocolate is totally melted, with no chunks in the dish.
Now spoon the thick, melted chocolate into the mold, until it's level with the inner edge. Tap the mold sharply a couple of times on the table, to level out the chocolate. You can add raisins, peanuts, or whatever you desire at this point. Then toss the mold in the fridge for an hour or two.
Before you take the bar out of the mold, insure the chocolate is completely cold and hard. Then just turn the mold upside-down and pull up on the edges while pressing down on the middle. If you're using decent-quality chocolate, the bars will pop out no problem.
Related Products: