The Future of Sound
Make any computer talk in minutes. Learn to type, write letters, exchange Email, and manage music. Let us open the door to computers for your blind friend.
Hello there, and thanks for dropping by the MarvelSoft web site. Here at MarvelSoft, we've pioneered the art of developing easy-to-use talking software which is completely narrated with pre-recorded human speech.
These days, it seems, everyone is walking around with an MP3 player - or wishing they had one. But loading your music onto a portable player requires the use of a software package - software which, up until now, has been largely inaccessible to blind computer users. Digital Jukebox for Windows is the first and only all-encompassing digital audio management solution - and of course it's almost entirely narrated with pre-recorded human speech. Everything from copying CD's to and from your player, to subscribing to online podcasts, to burning an audio CD with your favorite songs is easily accomplished with this exciting new program.
Our flagship product is, and always has been, Talking Typing Teacher for Windows , an interactive program for Windows that teaches keyboarding skills. All directions, posture tips, drills and games are narrated entirely with pre-recorded human dialog (as well as shown on-screen). This means that students never listen to hard-to-understand synthesized speech when learning to type with TTT. Full support for large-print users, multiple student access, and the ability to create customized lessons makes TTT an invaluable teaching tool for individuals and professionals alike.
Remember, whenever you're typing, it's best never to look at the keys. For folks who are just learning, though, this can be very frustrating. If you or your client has low vision and would find it helpful to sneek a peak now and again, we do carry a line of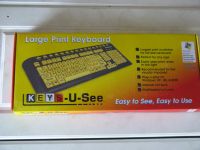 Large-Print Keyboards to help him or her get started on the road to being an excellent typist.
Next, we'd like to introduce Talking Toolbox for Windows , a superb collection of powerful, easy-to-use tools you'll find yourself using every day. Once you have Talking Toolbox on your computer, you'll enjoy using a talking email client (known as Post Office), a calendar to help you plan your week, month and year, a feature-packed word processor, a lightning-fast address manager, a phone dialer, a calculator to make balancing the books a piece of cake, a fully-functional CD player, and an amusing alarm clock to ensure you always get everything done on time! Naturally, all these tools are entirely self-voicing with their own built-in speech, making this package a must-have if you're a fan of getting work done in a snap.
Moving right along, Marvel Math for Windows is a multi-media program to teach and reinforce math skills. If you're working from a written curriculum, Marvel math can turn the printed page into an interactive E-test that's easy for you to design and lots of fun for students to work through. Otherwise, just tell Marvel Math how challenging you'd like math problems to be, and it will make them up in an instant!
Similarly, Speaking Spelling for Windows will make it a breeze to teach spelling skills to kids of all ages.
Last but not least, Quality Quiz for Windows can make any kind of quiz or exam come alive with just a few keystrokes. Not only will the program encourage and help students as they work through their quiz, but it will automatically mark every question as soon as the quiz is completed. No more spending hours in front of sheets of paper grading tests ... Quality Quiz can do it for you! And because this program makes each quiz so easy to take, and adds so much visual and audio feedback, students might actually look forward to exam time!
If you want to get the most bang for your buck, you'll be anxious to learn about MarvelSoft's educational package: the Talking Teacher for Windows suite. In a nutshell, you'll get Talking Typing Teacher, Marvel Math, Speaking Spelling, and Quality Quiz all on one CD - and save $65.00 while you're at it!
No matter which software product you decide to purchase, rest assured our free, world-class technical support will make sure you never have a question left unanswered. To consult one of our friendly, knowledgeable tech support specialists, just send an Email to Support@MarvelSoft.com.
Want to be the first to know whenever we update our software or release a new product? Subscribing to MarvelNews is just the ticket! Even if you're not a current MarvelSoft customer, the up-to-the-minute news could come in handy!


Searching for some nifty Braille books, products or gift ideas? Why not pay The Braille Superstore a quick visit?
Thank you for visiting us here at MarvelSoft. Feel free to check back with us again soon; we're always coming out with new products, as well as upgrades and enhancements to existing ones. Have a super day!
MarvelSoft: bringing you sound, talking software you'll use well into the future. MarvelSoft: the future of sound.