Talking Timer Clock
Sticks to Your Fridge; Has Built-In Talking Clock
Item Number: 1028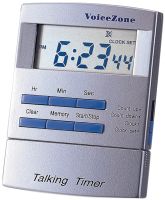 Larger Picture
Listen to this Product
Read the Instruction Sheet
Product Features
Can stick to the fridge, or stand on the counter.
Periodically announces time remaining.
Full-featured timer also has built-in talking clock.

Product Description:
Here's a cool tool that everyone needs! This is actually a two-in-one gadget, with a talking countdown timer and a talking clock. (Both can operate simultaneously and independently.) Plus, our timer has six different alarm sounds: whistling kettle, car horn, bell, bouncing coil, cuckoo, and beep. This timer's ultra-slim design makes it ideal for clipping to your belt, attaching to a metal surface, or sitting in an out-of-the-way corner of your kitchen counter (The clip can double as a small stand for the unit). There's also a super-strong magnet on the back of the timer, perfect for sticking it to your fridge.
This is the first and only 24-hour talking timer in the world which periodically announces the time left until zero, eliminating the need for constant checking of time remaining. When you're timing anything, the timer will automatically announce the time remaining every hour, every ten minutes during the final hour, every minute in the final ten minutes, every ten seconds in the last minute, and every second of those crucial last ten seconds. The timer function is perfect for timing the cookies you're baking or the supper you're stirring on the stove, and the unique auto-repeat function (which can automatically restart the countdown after counting down to zero) is great for timing repetitive activities such as daily medicine taking, exercise work-outs, etc. And, naturally, you can always touch just one button to have the clock announce the current time in a clear, crisp voice.
So stop trying to memorize all those meaningless beeps on your stove timer, and grab one of our handy Talking Timers - to save yourself a lot of headaches ... and many a burnt meal! (Uses two AG13 button cell batteries, included.)
Measures about 3-1/4 in. by 2-1/2 in. by 1 in.
Package Weight: about 3.9 ounces.
(From the Kitchen Corner shelf.)
Related Products: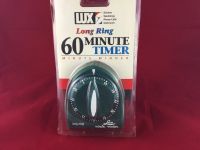 Tactile Timer
Wind-Up Timer with Raised Markings - Simple to Use
Item Number: 1029
$13.95
Tell Me More