Talking Kitchen Scale
Place Food on Platform to Hear Weight Spoken Aloud
Item Number: 1034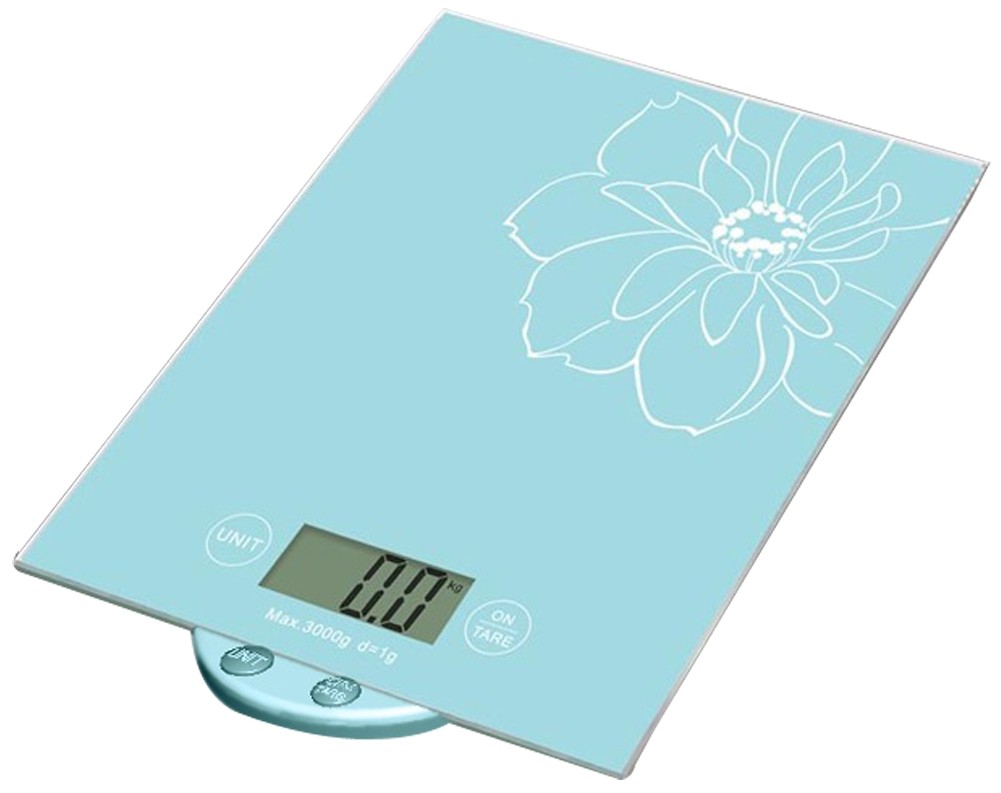 Listen to this Product
Read the Instruction Sheet
Product Features
Determines correct weight every time.
Has a raised toughened glass platform to weigh easily and safely.
Features a large electronic weight display.
Includes high-precision strain gauge sensors for accurate measurements.
One-touch start-up.
Comes with handy tare function to weigh food in any type of container.
Platform measures 8 by 6-1/2 inches.
Talking scale can weigh up to 12 lb.
or 5 kg.
It can report weight in pounds, ounces, grams, or milliliters.
Accurate to within 1 gram.

Product Description:
Color: White.
This invaluable kitchen tool is both attractive and practical. Simply place something on the raised glass platform, and count to three. Its weight will be immediately determined, shown on the large display, and spoken in a clear, female voice. Now, when the recipe calls for an 8-ounce can of condensed milk, or a 1-pound bag of chocolate chips, you'll know right away what size to add to the batter. You can find out how much the head of lettuce weighs before you add it to your salad, keep plates for dinner guests all the same size, determine how much milk is left in the jug, and even figure out how much serial you can eat to stay within the requirements of your diet.
Your new Kitchen Scale boasts four High-precision strain gauge sensors, so the weight it gives you is accurate to the nearest gram (0.035 ounces). To turn on, simply press the button, then place your first item. The scale will stay on for several minutes, and announce any changes in weight it detects, so if you're still measuring or have something else to weigh, there's no need to press the button again. The scale will announce the weight of the new measurement or item automatically. After a while, it will shut off by itself to save battery power.
This scale also boasts the handy Tare function, which allows you to weigh food in a dish, without the weight of the dish being counted in the measurement. Simply place a bowl on the scale, hit the Tare button to reset the weight to 0, then add your food. In just a couple of seconds, the weight of only your food will be spoken and shown.
The platform is made of toughened glass, and measures 8 by 6-1/2 inches (205 by 165 MM). The display is three quarters of an inch high - great for low-vision folks. The scale can weigh up to 12 pounds (5 kilograms), and can report weight in pounds, ounces, grams, or milliliters. Takes 2 AAA batteries, which are not included.
Measures about 9 in. by 6-1/2 in. by 1 in.
Package Weight: about 1.2 pounds.
(From the Kitchen Corner shelf.)
Related Products: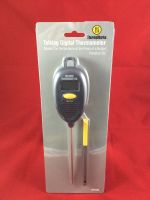 Talking Cooking Thermometer
Push Probe into Meat, Hear Temperature in Seconds
Item Number: 1032
$39.95
Tell Me More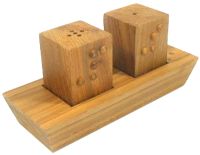 Braille Salt and Pepper Set
Wooden Holder and Shakers, Always Tell them Apart
Item Number: 1035
$6.95
Tell Me More