PenFriend Audio Labeler (Version 2)
Label Anything with Your Voice - No Braille Needed
Item Number: 1118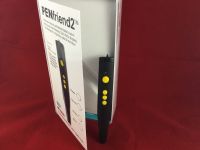 More Pictures
Demonstration Video
Watch on YouTube Read the Instruction Sheet
Product Features
Revolutionary labelling system for anyone who's blind; no Braille required.
Select item, peel off back of label and stick it on, Touch tip of PenFriend to label and hold down button to record your message.
Shaped like a fat pen with speaker at the top, buttons down the side, and sensitive tip at the bottom.
Use to label anything, leave audio messages, and as a note-taker.
No limit to length of recorded messages; up to 250 hours of recording time.
Internal memory is 4GB, giving large capacity for many applications.
Can download MP3 files from computer (including audio books or music).
Complete with 127 labels in a variety of shapes and sizes, built-in speaker, USB cable, neck lanyard, and 2 AAA batteries.
Can purchase more labels, including Laundry Labels, for unit.
Pocket-sized, ground-breaking, easy to use anywhere.

Product Description:
What's new in Version 2
Slimmer design with yellow contrasting operating buttons
Now has easier record with simple on/off function
127 coloured labels plus 3 magnetic badges – great for using on tins.
4GB internal memory
This is a revolutionary labelling system for anyone who cannot see - regardless of whether you know Braille or not! Now labelling everything from your CD collection to frozen foods is literally as easy as 1, 2, 3 ...
1. Decide what it is you want to label. It can be a bottle of medicine, a can of soup, a box of cereal, a jar of jam, a DVD, or an important letter you've received in the mail.
2. Peel off one of the self-adhesive, penny-sized labels and stick it anywhere on your item.
3. Touch the tip of the PenFriend to the label you've just stuck onto your item and hold down a button to record your message.
That's it! Now, whenever you touch that particular label with the tip of this amazing little gadget, you'll hear what was recorded pertaining to that unique item. It could be a three-second blurb saying, "Frozen Orange Juice Concentrate". Or it could be a five-minute recording with the name of your favorite CD album, complete with the artist's biography and a list of all the track numbers and names!
The PenFriend is shaped just like a pen - a little fatter than an ordinary pen, to be sure - but it looks like a pen nonetheless. It's got a loud and clear speaker at the top, and a few easy-to-feel buttons down the side. At the bottom is a highly-sensitive tip which identifies each uniquely-bar-coded label and records or plays back the recording associated with that specific label.
Using the PenFriend and its self-adhesive labels, you can easily record, re-record, and play back information with this pocket-sized, ground-breaking labelling system. And because no computer is required to use this device, you can use it anywhere to label or identify pre-labelled items - whether you're in your own home or visiting relatives across the country.
The PenFriend can be used to label kitchen and food items (including anything in the fridge or freezer), movie and music collections, household cleaners, medicine bottles or boxes, printed documents, or even to record shopping lists or leave audio messages for others. You can also use it as a portable note-taker: just record your message and then place the allocated label in a small notebook or on a card tucked inside your wallet.
There is no limit to the length of each audio message. This means you can feel free to record detailed information pertaining to every product you're labelling - whether it's a new prescription drug you've just picked up or a cake-mix package. And because you can order inexpensive packs with several hundred labels in them, and because the pen itself can hold up to 250 hours of recording time, you should never run out of labels to stick on or memory to store your recordings.
Your PenFriend kit comes complete with the ability to download MP3 files from your computer (including audio books or music) if desired. The memory capacity is 4GB, lots of room for all your recording and listening needs. The product is supplied with 130 labels in a mix of shapes and sizes, a built-in speaker, a neck lanyard, and the two AAA batteries it operates on.
Package Weight: about 11.6 ounces.
(From the Marking and Labeling shelf.)
Related Products:

Labeling Slate
1 Line, 25 Cells - Ultra Thin, Take it Everywhere
Item Number: 1098
$6.95
Tell Me More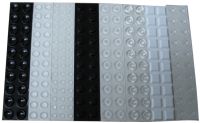 Bump Dots
Peel-and-Stick Dots to Mark Everyday Items
Item Number: 1106
$2.95
Available Packages: Large Round, Medium Round, Small Round, Tiny Round, Tall Flat Circle, Short Flat Circle, Indented Round, Flat Circle with Bump, Square, Pyramid, or the Entire Set (for $26.95)
Tell Me More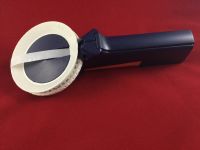 Handheld Braille Labeler
Label Anything in Braille - It's Fast and Easy
Item Number: 1107
$24.95
Tell Me More

Clear Labeling Tape
Label in Braille Without Covering Print
Item Number: 1108
$5.50 for 3 Rolls (Larger Package Available for Better Price)
Tell Me More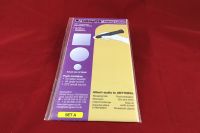 PenFriend Refill Labels
381 More Labels to Use with Your PenFriend Labeler
Item Number: 1119
$29.95
Tell Me More