Talking Keychain Calendar
A Talking Clock for your Keyring, Speaks Date Also
Item Number: 1014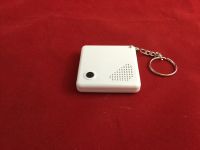 Larger Picture
Listen to this Product
Read the Instruction Sheet
Product Features
Less than an inch thick.
Can speak the current date.
One daily alarm.
Spoken instructions guide you through every setting and feature.
Ultra-slim, with sleak white finish, and durable metal keychain.
Features clear, easy-to-hear male voice.
Uses a single CR2032 button-cell battery (included).

Product Description:
A small talking keychain that speaks the current time is a brilliant idea. It's small and simple, and is easy to clip to anything from a set of keys to a belt loop or handbag. But why get just a talking clock, when you can get a talking calendar clock instead?
Our Talking Keychain Calendar has all the features of a traditional talking keychain clock. It speaks the time at the touch of a button, and has a daily alarm. In addition to all that, though, is a huge extra - it can speak the current date, too.
Have you ever been waiting for the bus for a weekly engagement, only to wonder whether today really is Tuesday? Or perhaps you suddenly pannick, thinking you've missed your sister's birthday on the 19th. There are lots of reasons why being sure what the current date is, but only one simple solution. Our new Talking Keychain Calendar can speak the current time, or today's full date, at the simple tap of a button. Clip it on your keychain, hang it around your neck, or throw it in your perse. Now, no matter where you go, it's got you covered. (Operates on one CR2032 button-cell battery, which is included and already installed.)
(From the Talking Clocks shelf.)
Related Products: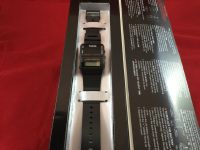 Classic Talking Watch
Affordable Tried-and-True Model with Clear Voice
Item Number: 1001
$8.95
Tell Me More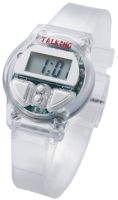 Ladies Talking Watch
Small, Lightweight Model--Made for a Slender Wrist
Item Number: 1002
$9.95
Tell Me More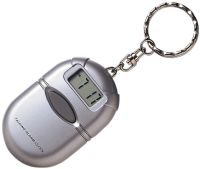 Talking Keychain Clock
The Ultimate Talking Pocket Watch
Item Number: 1009
$8.95
Tell Me More

Talking Memo Pen
Speaks the Time, Records a Memo, Writes Like a Pen
Item Number: 1022
$13.95
Tell Me More