Atomic Talking Watch
Attractive Calendar Watch, With a Clear Male Voice
Item Number: 1008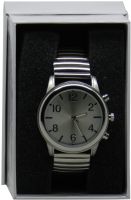 Larger Picture
Listen to this Product
Read the Instruction Sheet
Product Features
Self-setting, atomic timepiece (its tiny built-in radio insures the spoken time is always correct).
Can speak the current date.
Can announce time every hour.
One daily alarm.
Spoken instructions guide you through every setting and feature.
Boasts silver face and body, with clear, male voice.
Features analog design (dial and hands).
Easy to use, high quality, robust.
Only two buttons makes setting easy.
Stainless steel stretchy band.
Sizes available for men or women.
Uses 1 CR2025 button-cell battery (included).

Product Description:
Color: Hazy silver face, shiny silver body.
If you're the type of person who always goes for the gold (so to speak), this unisex watch is likely the one you'll choose. It's our most high-end, attractive timepiece to date, and boasts several top-notch features which all our other watches simply don't offer.
First-off, not only does this watch speak the time (E.G.: "The time is 9:45 A.M."), but it also will announce the date at the touch of a button (Today is Friday, January 2, Year 2009."). Whether you're a student about to write an exam, a high-powered executive afraid of missing that all-important meeting, or an elderly grandmother wanting to keep track of meal-times and birthdays, being able to hear the time or date at the touch of just one button is quite helpful indeed! And for anyone looking at the screen, you'll be interested to note that this is actually an analogue watch, meaning the time is displayed with an old-fashioned dial and hands, rather than using a digital read-out.
Next, we should point out that this talking watch is atomic, so it always stays set to the correct time and date. It regularly monitors for the American Military's RF broadcast signal, so it even automatically adjusts for daylight savings. It supports Pacific, Mountain, Central and Eastern timezones, so is suitable for the Contenental US and Canada (excluding Atlantic provinces).
The watch also boasts tons of great features - every single one of which is 100% usable by a totally blind individual. Setting the alarm is a piece of cake, as is turning the Hourly Chime option on or off. Frequent flyers will appreciate the ability to effortlessly switch between the four major U.S. time zones, and you can always press a button to insure your watch updated the current time that morning. The pleasant male voice clearly speaks the time, date, alarm time, and audibly guides you through all other setup options.
There are only two buttons on the rim of the face, making this watch easy to set and use. It's impossible to accidentally change the time or mess with the other settings, as the Set button must be held down for a full five seconds before the menu is entered - a fact which makes this powerful yet easy-to-use watch ideal for anyone, even newly-blind or older folks.
The watch comes with a stretchy metal band, so you can just slip the watch on or off - without ever worrying about fastening a clasp or doing up a buckle. The stretchy expansion band automatically fits almost all wrist sizes.
Well, we all know that looks aren't the most important thing in life, but most of us still want to look our best. This watch fits right into that philosophy, and feels substantial on your wrist, without being unnecessarily heavy. The watch-face and band are classy and upscale, without being bulky to wear or awkward to use. And we're quite positive you and your friends will agree with our enthusiastic assessment! (Uses one CR2025 button-cell battery, as well as one LR626 battery, both of which are included and already installed.)
Measures about 1-1/4 in. in diameter
Package Weight: about 4.6 ounces.
As we mentioned earlier, two sizes of watch are available. Other than the size of the face, however, both models are identical.
Mens
Item Number: 1008-1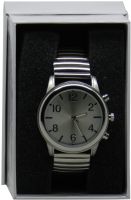 The standard size, suitable for almost anyone. Face measures 30.5 MM.
Ladies
Item Number: 1008-2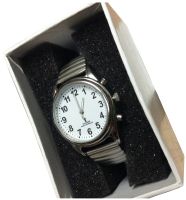 This is a slightly-smaller style of watch, designed for ladies or those who prefer to wear less bulky timepieces. Face measures 26.5 MM.
Continue Shopping
(From the Talking Watches shelf.)
Related Products: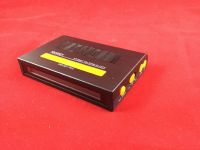 Handheld Talking Calendar
Atomic, Feature-Rich Timepiece for Those on the Go
Item Number: 6002
$29.95
Tell Me More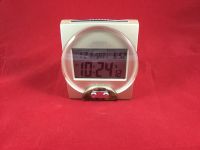 Atomic Talking Clock
Elegant, Feature-Rich Calendar - Which Has it All
Item Number: 1021
$36.95
Tell Me More