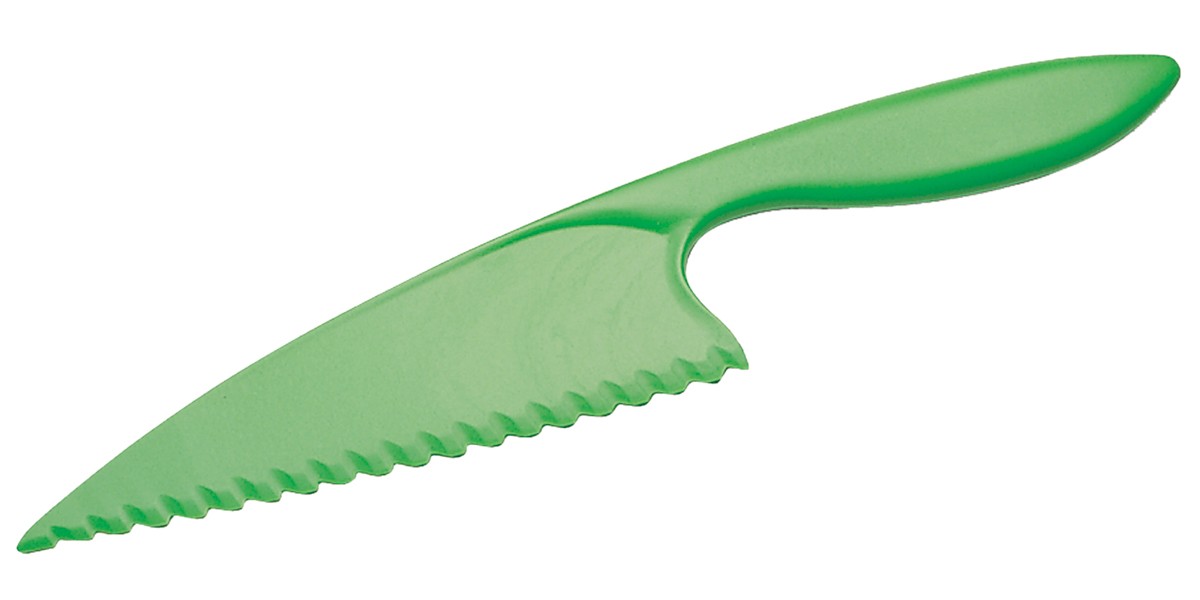 Nylon Knife
Item Number: 1032
Product Features
Color: Green.
Serrated plastic blade won't cut your fingers.
Safe for use on no-stick bake-ware.
Dishwasher safe.
Measures about 11-3/4 in by 2-1/4 in by 1/2 in.
Package Weight: about 3.2 ounces.
Product Description
Sharp enough to dice potatoes, accurate enough to slice bread ... and smart enough to not cut your fingers! This amazing knife is made of a special, hardened plastic that cuts easily through fruits, vegetables and bread safely, without the risk of seriously cutting yourself. Unlike a traditional metal kitchen knife, it's not the end of the world if you contact your fingers while learning how to make a fruit platter for dinner. Most of the time, you won't even break the skin.
But there are lots of other uses for this knife aside from safety. You can use it on non-stick bake-ware, meaning it's finally possible to cut brownies, cakes, even meat loaf right in the pan without leaving a mark. It's great for kids who want to help in the kitchen, because you don't have to worry about them getting seriously hurt. Lastly, this knife cuts cleanly through lettuce ... without leaving behind an ugly, brown edge.
The Nylon Knife's serrated blade makes perfect thin or thick slices. It was designed by professional chefs, yet is the perfect choice for folks who are learning to prepare food without sight. Of course, it is completely dishwasher safe.
Related Products:
Cut Fresh-Baked Loaves into Straight, Even Slices
Item Number: 1037
$54.95