Bread Cutter Board
Temporarily out of stock.
Usually ships in Mid March.
Cut Fresh-Baked Loavs into Straight, Even Slices
Item Number: 1040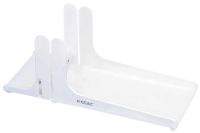 Larger Picture
Read the Instruction Sheet
Product Features
Effortlessly cuts bread into even slices.
Has a specially-designed plastic board.
Eliminates cut fingers.
Perfect for arthritis sufferers.
Cuts Bread, fruits, vegetables, cheese, and sandwich meat.
Made from heavy-duty white plastic.
Comes with one-year manufacturer's warranty.
Dish-washer safe.
Fast, accurate, stable, and safe.

Product Description:
This specially-designed plastic board really simplifies the task of cutting bread into even slices. Before, blind folks have often hesitated to cut up their homemade bread, hot out of the oven, or purchase uncut bread at the bakery. Not anymore! This product not only keeps your hands away from the sharp blade of your knife, but guarantees perfect bread slices. Now, you can serve your fresh-baked goods with pride, or use them to make sandwiches. In short, all you have to worry about is baking the perfect loaf. Your new Bread Cutter Board will help out with the slicing part!
To use, place a loaf of bread on the left-hand side of the board, between the guides that keep it from sliding around or falling off. Set the adjustable bar on the right to the desired thickness, and fit a knife into the slotted guide on the top of the unit. Then, simply slide the bread forward, cut down, and remove the slice when finished. It's fast, accurate, and safe ... every time!
This bread cutter is also perfect for folks who suffer from arthritis or have limited hand and shoulder mobility because it sits firmly in place on your counter or table, making it stable prior to cutting. It also lends itself beautifully for cutting fruits and vegetables, such as tomatoes or carrots, cheese, sandwich meat, and so on.
Made from heavy-duty white plastic, your new cutting board has a one-year manufacturer's warrantee, and is dish-washer safe. Please note that a knife is not supplied with the bread cutter board.
Measures about 14 in. by 5 in. by 6 in.
Package Weight: about 1.1 pounds.
(From the Kitchen Corner shelf.)
Related Products: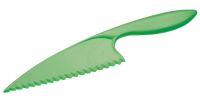 Nylon Knife
Temporarily out of stock. Usually ships in Mid April.
Cut All Kinds of Food Without Cutting Your Fingers
Item Number: 1033
$4.95
Tell Me More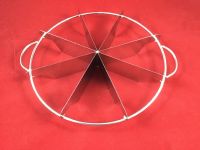 Metal Pie Divider
Cut Pie in Eight Equal Slices with One Easy Press
Item Number: 1041
$39.95
Tell Me More