Ladies Talking Watch
Small, Lightweight Model--Made for a Slender Wrist
Item Number: 1002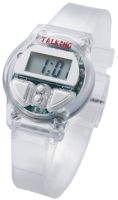 Larger Picture
Listen to this Product
Read the Instruction Sheet
Product Features
Can announce time every hour.
One daily alarm.
Optional snooze feature.
Can speak time in either 12 or 24-hour format.
Spoken instructions guide you through every setting and feature.
Small and light-weight, with circular face measuring less than 1.
5" across.
Attractive, practical and reasonable, with clear female voice.
Clear digital watch, with 4 rubber buttons located on top.
Thin, opaque plastic band is fully adjustable; suitable for ladies and children.
Runs on 1 CR2016 battery (included).

Product Description:
Color: Clear, with hazy opaque band.
Here is one of the smallest talking watches you'll ever find. The circular face measures under an inch-and-a-half across, and the watch itself is light as a feather.
But don't let its size fool you: this watch is still practical in every sense of the word. Simply tap a button on top of the face to hear the time spoken aloud in a clear female voice, like this: "It's 9:14 PM." The watch can automatically speak the time every hour on the hour, but of course this feature may also be turned off with the press of a single button. The alarm can be set to wake you with a beeping sound, or, again, effortlessly turned off. And since this watch audibly guides you through every aspect of setting the time and alarm, anyone can fully use it, even if you have no sight at all.
This unit boasts all the features of our Classic Talking Watch, but the design is a little different. The four rubber buttons are conveniently located on the top of the watch, so they're easy to find and press. In addition, the thin, opaque plastic band is perfect for ladies (or even young children), and is fully adjustable.
Yes, if you're looking for a watch that can be worn by any woman, anywhere, this is it! Runs on one CR2016 battery, which is included, of course.
Measures about 1-3/4 in. by 1-1/2 in. by 1/2 in.
Package Weight: about 2.5 ounces.
(From the Talking Watches shelf.)
Related Products: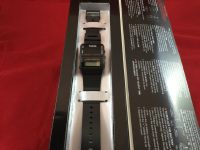 Classic Talking Watch
Affordable Tried-and-True Model with Clear Voice
Item Number: 1001
$8.95
Tell Me More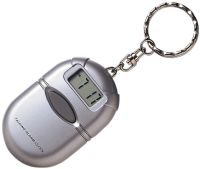 Talking Keychain Clock
The Ultimate Talking Pocket Watch
Item Number: 1009
$8.95
Tell Me More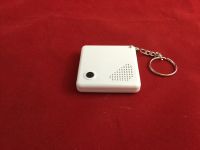 Talking Keychain Calendar
A Talking Clock for your Keyring, Speaks Date Also
Item Number: 1014
$13.95
Tell Me More

Talking Memo Pen
Speaks the Time, Records a Memo, Writes Like a Pen
Item Number: 1022
$13.95
Tell Me More