Talking Memo Watch
Listen to the Time ... Plus Record 10-Second Memos
Item Number: 1005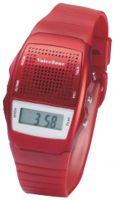 Larger Picture
Listen to this Product
Read the Instruction Sheet
Product Features
Can record a ten-second memo.
Can announce time every hour.
One daily alarm.
Optional snooze feature.
Features burnished metallic red body with red band.
Large digital LCD display, with 6 buttons on side of watch.
Boasts fully-adjustable plastic band that fits children and adults.
Unisex design; great for men and women.
Clear female voice.

Product Description:
Color: Burnished metallic red, red band.
Not so many years ago, the very idea of a watch that actually spoke to you was something of a novelty - sure to stir up disbelieving conversation among friends and strangers alike. But today, with the advancement of technology, the idea no longer seems that out of the ordinary. Here, then, is an all-new type of watch, that's as much a novelty today as talking watches were back in the '90's.
Naturally, this watch has all the standard features that you've come to know and appreciate from our Classic Talking Watch. It speaks the time in a clear, female voice; has a daily alarm with an optional snooze feature, and it can be programmed to automatically announce the time at the top of each hour with the touch of a single button. All six buttons are found on the side of the watch (meaning they won't get accidentally bumped); setting the time and alarm is a cinch for everyone (including anyone who's totally blind); and the large LCD display won't go unnoticed by anyone with low vision.
But this watch's crowning glory lies in two buttons at the bottom-right of the face. Simply touch and hold the upper one down to record anything you like, up to ten seconds in length. (Use this feature to make a note of the exact amount of the property tax bill you just paid at City Hall, a long-lost friend's phone number, or any other must-not-forget memo.) Then, simply tap the lower button to hear your recording back.
Our red-colored talking memo watch will certainly kick-start any faltering conversation, be a big hit with the kids ... and prove to be a helpful tool for you as well. The fully-adjustable plastic band fits children and adults; and the unisex design means our Recording Talking Watch is well-suited for both men and women. It's fun - it's useful - it's just so cool. Pick up yours today! (Runs on one CR2025 battery, included.)
Package Weight: about 3.5 ounces.
(From the Talking Watches shelf.)
Related Products: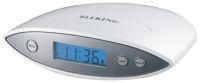 Easy-Touch Talking Clock
Elegant Half-Circle Clock - With Huge TALK Button
Item Number: 1011
$13.95
Tell Me More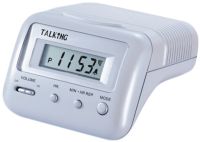 Talking Table Clock
Back to Simplicity - Loud Speech, Large Display
Item Number: 1012
$11.95
Tell Me More