Classic Talking Watch
Affordable Tried-and-True Model with Clear Voice
Item Number: 1001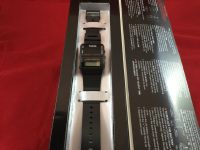 More Pictures
Listen to this Product
Read the Instruction Sheet
Product Features
Can announce time every hour.
One daily alarm.
Optional snooze feature.
Can speak time in either 12 or 24-hour format.
Spoken instructions guide you through every setting and feature.
Boasts clear female voice, and large digital LCD display.
Has a fully adjustable plastic strap; buttons are on the side.
Black watch and band.
Easy to use; reasonably priced.
Uses 1 CR2016 battery (included).

Product Description:
Color: Black watch and band.
Here's a must for any blind person! Whenever you tap the button on the side of this talking watch, a clear female voice will read the time to you. By pressing one more button, you can turn the Hourly Time Announce feature on or off. And at the touch of a few more buttons, you can set a beeping alarm to wake you.
Perhaps best of all, every feature of this watch is totally accessible by a blind person. It's a piece of cake to tell whether the alarm is set to go off - and when, and to check if Hourly Report is toggled on or off. You can also set it to speak the time in either 12-hour or 24-hour military style. And of course, the watch has a large LCD display, and a fully adjustable plastic strap - meaning it can fit kids and adults alike.
So, whether you're buying this attractive, nicely-boxed talking watch as a special treat for yourself or a friend, it's sure to be a practical tool that'll be used all the time! (Uses one CR2016 battery, included.)
Measures about 2 in. by 1-1/2 in. by 1/2 in.
Package Weight: about 2.8 ounces.
(From the Talking Watches shelf.)
Related Products: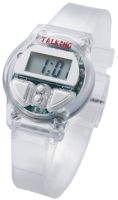 Ladies Talking Watch
Small, Lightweight Model--Made for a Slender Wrist
Item Number: 1002
$9.95
Tell Me More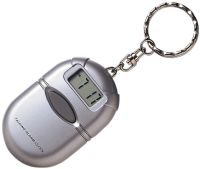 Talking Keychain Clock
The Ultimate Talking Pocket Watch
Item Number: 1009
$8.95
Tell Me More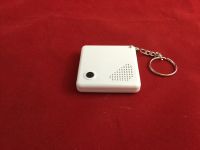 Talking Keychain Calendar
A Talking Clock for your Keyring, Speaks Date Also
Item Number: 1014
$13.95
Tell Me More

Talking Memo Pen
Speaks the Time, Records a Memo, Writes Like a Pen
Item Number: 1022
$13.95
Tell Me More