Talking Keychain Clock
The Ultimate Talking Pocket Watch
Item Number: 1009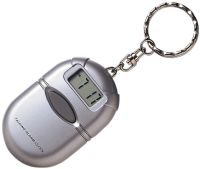 More Pictures
Listen to this Product
Read the Instruction Sheet
Product Features
Less than an inch thick.
Can announce time every hour.
One daily alarm.
Optional snooze feature.
Can speak time in either 12 or 24-hour format.
Spoken instructions guide you through every setting and feature.
Ultra-slim, with attractive silver finish, small digital display screen, and durable metal keychain.
Features clear, easy-to-hear female voice.
Uses 2 AG13 button cell batteries (included).

Product Description:
Color: Silver finish.
Because of its great low price and practicality, our Talking Key Chain Clock is an all-time bestseller. Small enough to conveniently fit into your pocket or purse, yet large enough to keep you from misplacing your keys, this ever-useful clock/keychain has a surprisingly loud and clear voice that's audible even in a noisy public place.
Simply touch the large button on the front to hear the time announced in a pleasant, female voice. Or, choose to have the key chain speak the time every hour on the hour, just to be sure time won't fly by too fast. You'll also enjoy the easily-set alarm to wake you or remind you of important appointments with a beeping reminder of the time. You can even set it to speak the time in either 12-hour or 24-hour military style.
This ultra-slim pocket clock has an attractive silver finish, along with a small display screen if you or a friend ever want to actually look at the time. And of course, a durable metal key chain is attached, perfect for holding your key ring or hanging on a hook by the door - or anywhere else in your home for that matter. (Uses two AG13 button cell batteries - which are included.)
Measures about 2-1/2 in. by 1-1/2 in. by 1/2 in.
Package Weight: about 1.8 ounces.
(From the Talking Clocks shelf.)
Related Products: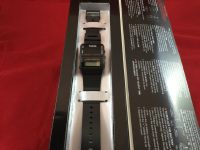 Classic Talking Watch
Affordable Tried-and-True Model with Clear Voice
Item Number: 1001
$8.95
Tell Me More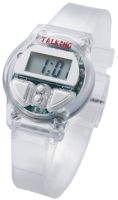 Ladies Talking Watch
Small, Lightweight Model--Made for a Slender Wrist
Item Number: 1002
$9.95
Tell Me More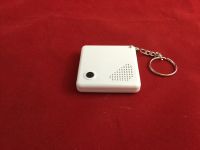 Talking Keychain Calendar
A Talking Clock for your Keyring, Speaks Date Also
Item Number: 1014
$13.95
Tell Me More

Talking Memo Pen
Speaks the Time, Records a Memo, Writes Like a Pen
Item Number: 1022
$13.95
Tell Me More