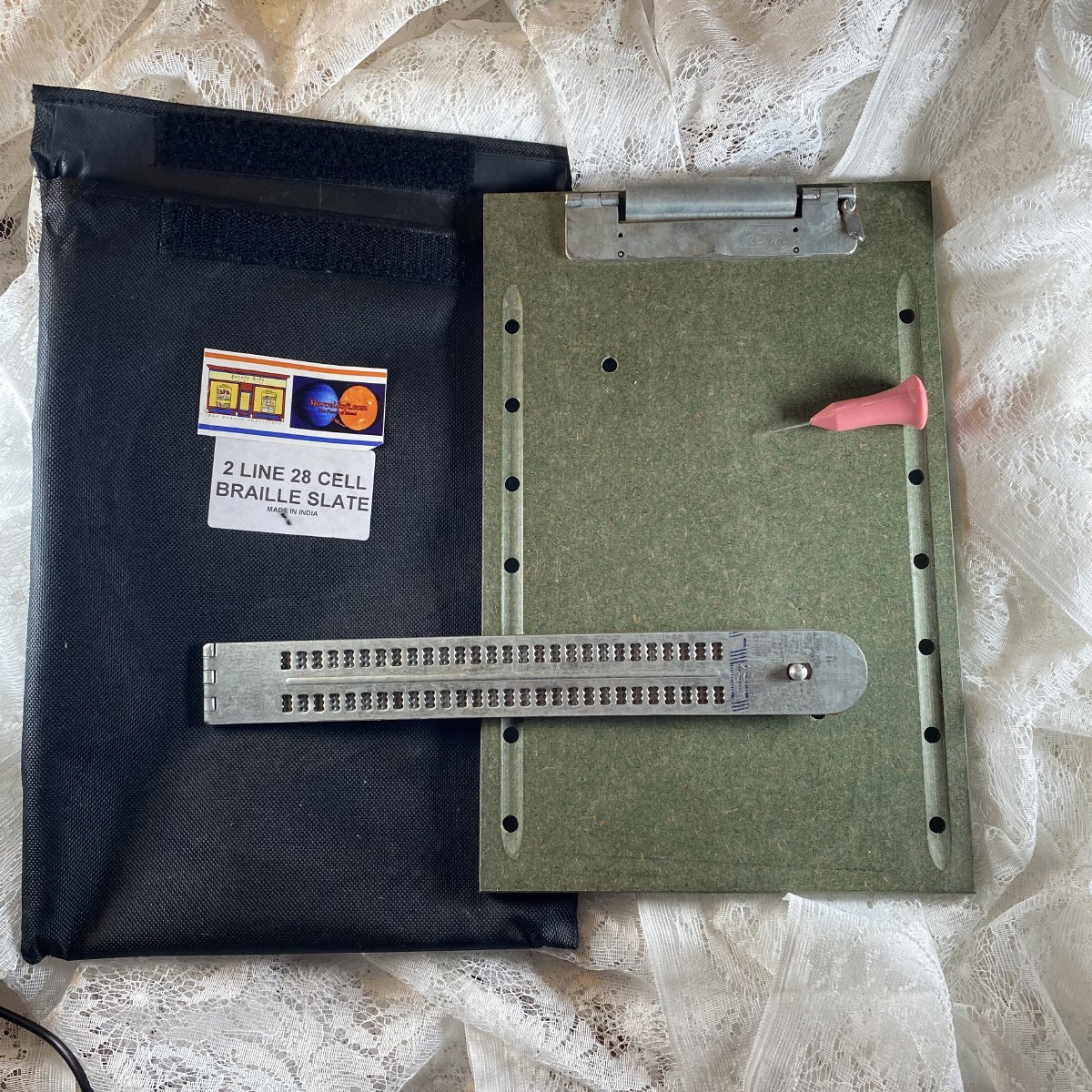 Clipboard Slate
Item Number: 1069
Product Features
Wooden clipboard holds metal slate in place.
Features a clip at the top of the board that holds your sheet of paper securely.
Board has several sets of holes; helps guide the feet of the slate as you work your way down the page.
Light-weight and durable, will serve you for years to come.
Clipboard acts as a solid surface so you don't need a table to work on.
Portable, versatile, and efficient for serious note-takers.
Comes with a durable Classic Stylus.
Includes a pouch for safely storing slate, stylus, clipboard and paper.
Package Weight: about 1.4 pounds.
Product Description
Well, if you really want to get serious about writing Braille, you'll fall in love with our
Clipboard Slate
! Not only does this package come with a two-line, twenty-nine-cell metal slate, but you also get a wooden board which holds the slate in place at all times.
Moving the slate down the paper becomes a cinch for two reasons. First, there's a clip at the top of the board that holds your sheet of paper in place. And second: the board has sets of holes going all the way down designed for the feet of the slate to fit snuggly into. So you'll never have to worry about making sure the paper is snapped in perfectly straight when using the Clipboard Slate.
What's more, this is the most durable of any of our slates, so you can count on your Clipboard Slate standing up for years to your everyday Brailling needs. And, because it comes with the wooden board (which functions much the same way a regular clipboard would), you'll quickly find it'll be easy to punch out page after page of Braille, regardless of whether you're writing on your lap or using a desk. Finally, a storage pouch is included, which holds the slate, stylus, clipboard and a few sheets of paper.
Related Products: