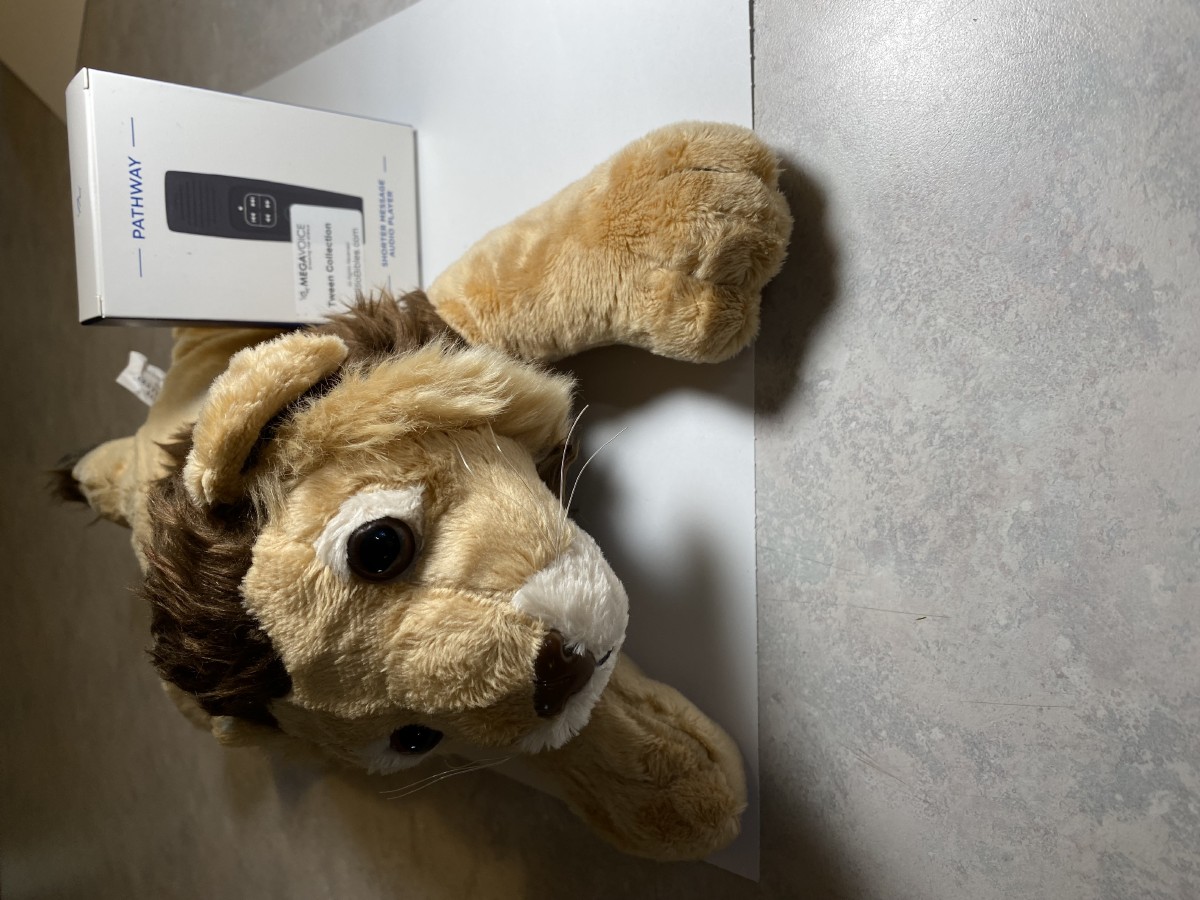 Teddy Bear Audio Bible for School Children (Ages 5-12)
Item Number: 1313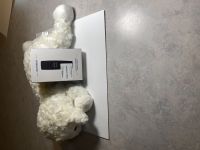 Lamb
Item Number: 1313-1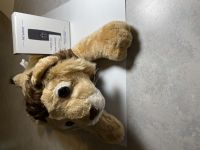 Lion
Item Number: 1313-2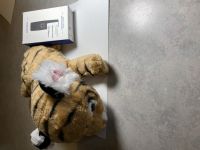 Tiger
Item Number: 1313-3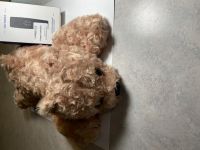 Bear
Item Number: 1313-4
Product Features
Audio Bible stories for road-trips, bedtime, or any quiet time.
Soft, cuddly stuffed animal has audio player inside.
Loaded with dramatized New Testament plus 53 hours of Bible stories.
Brings physical and emotional comfort to children who have experienced trauma or pain.
Tactile reminder of God's love for all children.
Furry critter has Velcrow-sealed pocket to hold player.
Player is fully accessible to the blind.
Easy buttons for navigating between books/chapters/stories, Play/Pause, and Volume Up/Down.
When turned on, resumes playing where you left off.
Has headphone jack.
Package includes your choice of stuffed animal, audio Bible player, earbuds and USB charging cable.
For ages 5-12.
Package Weight: about 9.2 ounces.
Product Description
Share audio Bible stories with grade-schoolers on road-trips, at bedtime or any quiet time! This soft, cuddly stuffed animal has a pocket inside to hold an audio player, which is loaded with a dramatized New Testament plus 53 hours of Bible stories.
Pairing a stuffed lion, tiger, bear or lamb with an audio Bible makes the Gospel engaging. Research shows that stuffed animals with an audio Bible inside can bring physical and emotional comfort to kids - and even adults - who have experienced trauma and pain. When you place these talking teddy bears in the hands of children, it's a tactile reminder of God's love.
Each stuffed, furry critter has a Velcrow-sealed pocket to securely hold the audio Bible player inside. The player is the same model as our Personal Audio Bible, but comes loaded with a treasure-trove of Bible stories for young listeners. The player is fully accessible to the blind, and has buttons for easy navigation between books/chapters of the Bible or individual stories, Play/Pause and Volume Up/Down. When turned on, the unit resumes playing where you left off, and a headphone jack is also included.
This package comes with your choice of teddy bear, the audio Bible player, a pair of earbuds and an USB charging cable. Player runs on a rechargeable battery, which is already installed. For ages 5 to 12.
Audio Found on this Player:
Adventure Story Bible Audio Book Set (20 hours)
The Adventure Story Bible tells the great stories from Adam and Eve to the apostle John's vision of a new world. Based on extensive research and attention to detail, biblical characters and times are related as accurately as possible. So that the listener can hear the stories in order of occurrence, Bible characters spring to life in chronological order.
Children's Version of the Jesus Film (1 hour)
The Story of Jesus for Children" provides a solution to the challenge of teaching children the truth about God and His Son Jesus. It ends with an invitation, by a child to children, to accept Christ into their lives.
The Witnesses Trilogy - Part 1: God with Us (1.5 hours)
He was born in humble obscurity, yet His family had to flee to save Him from a jealous ruler. He forgave sins, healed the sick, and gave hope to the downhearted and oppressed, yet He was despised and rejected by many. He spoke the truth even when it was dangerous to do so. He willingly laid down His life and then rose again, conquering the power of death!
From The Voice of the Martyrs comes God with Us, the dramatic retelling of the life of Jesus Christ as seen through the eyes of the last surviving apostle, John. Journey with Jesus and encounter His miracles, His astonishing teaching, and His unsurpassed bravery. Discover the power and love of Jesus Christ and see why His followers risked all to carry His message to the ends of the earth.
Children and adults alike will be captivated by this account of Jesus' life, featuring vivid storytelling and high-impact animation. Recommended for ages 7 and up. This powerful presentation will encourage and inspire listeners to follow in the footsteps of Jesus Christ, the Son of God.
The Witnesses Trilogy - Part 2: The Messengers, The Birth of the Early Church (1.5 hours)
Having risen from the dead, Jesus Christ has appeared to His disciples and instructed them saying, "Remain in Jerusalem until you are filled with power from Heaven!" Waiting in prayer as Jesus has commanded them, the time comes when the Holy Spirit is poured out upon them with great power and wonder!
Follow the small band of early Christian believers as they boldly proclaim Christ and His message in the face of great opposition, resulting in the growth of the church and the unexpected conversion of its most zealous enemy. Based on the Book of the Acts of the Apostles Chapters 1-9.
People of all ages will be inspired by this powerful and moving depiction of the first Christians. Recommended for ages 7 and up.
The Witnesses Trilogy - Part 3: To Every Nation (1.5 hours)
The third and final installment of The Witnesses trilogy. Here, we witness the church's miraculous growth and learn how the first believers took the Gospel To Every Nation. Covering the Book of Acts chapters 9-28, this thrilling dramatized feature shows how the Christian faith changed the world. For ages 7 and up.
Keys for Kids (27.5 hours)
With Keys for Kids devotions, you'll learn more about God's love every day! Listen to a fun story and hide God's Word in your heart with the Key Verse of the day.
New Testament - English Standard Version (20 hours)
Combines a word-for-word translation with a modern literary beauty. Ideal for kids to read and memorize. Dramatized reading.
Ask a Question About this Product
(From the Audio Bibles shelf.)
Related Products:
Loud speaker, Solar or AC-Powered, Rugged Design
Item Number: 1311
$79.95 Available Versions: King James and New International, or New King James and Mini Bible College
Stuffed Animal Reads Bible Stories to Preschoolers
Item Number: 1312
$69.95 Available Animals: Lamb, Lion, Tiger, or Bear
Listen to the Entire Bible on a Dedicated Player
Item Number: 1039
$59.95 Available Versions: KJV (King James Version), NKJ (New King James), NIV (New International Version), ESV (English Standard Version), NLT (New Living Translation), DAB (Daily Audio Bible), CFL (Courage for Life), or NCB-NT (New Catholic Bible New Testament) plus Catholic Prayers