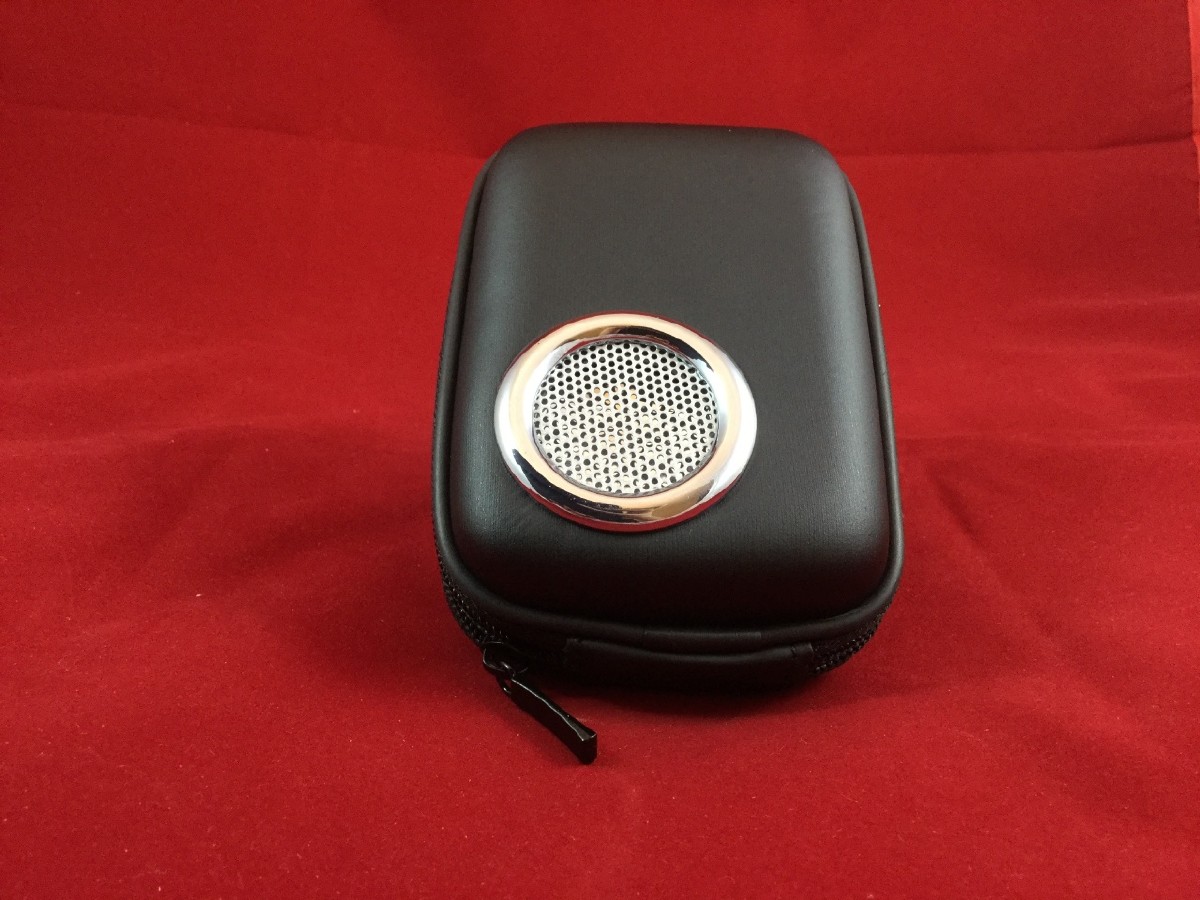 Portable Speaker Pack
Item Number: 2004
Product Features
Color: Black.
Rugged and durable, with handy belt clip.
Engenious design; use with any small portable devices.
Works great with iPod Nano, or any devices with 1/8" earphone jack.
Features zipper, inside elastic pocket for unit, and a silver outside speaker.
Affords great protection while putting out superb sound.
Just plug built-in cable into headphone jack of unit, zip into case, and go anywhere.
Uses 2 AAA batteries (not included).
Measures about 4-1/2 in by 3-1/2 in by 2 in.
Package Weight: about 4.6 ounces.
Product Description
Well, if you like taking your music with you wherever you go, you won't be able to pass this one up. Now, you can pack your MP3 player or iPod Nano into a sturdy, thick leather case, share your songs with the world ... and make your player virtually indestructible in the process.
This ingenious design combines protection of your expensive electronics with the joy of listening out loud. To use, simply unzip the case, insert batteries, and turn on the speakers. Next, connect your MP3 player to the 1/8" earphone jack, and press Play. Finally, slide it into the elastic pocket on the case, and zip it closed. Share your music with all your friends, and worry about your player no more. It's safe. You need not worry about that one!
Prolonged exposure to sand, dirt, rain and shock takes its toll on all electronics after a while. Well, not only does this tough, rugged case come complete with a belt clip, but it is designed to stand up to any environment on Earth. Perhaps best of all, a large speaker is built right into the front. Just crank up your favorite tunes, slip the player inside the case, and zip it closed. Then, hike through a forest trail, fall off a slippery log, or run it over with a mountain bike. This portable music system is built to take a licking - and keep right on ticking!
This case will work with most music players on the market. It is made of black imitation leather, with a sporty silver speaker. It takes 2 AAA batteries, which are not included.
Related Products:
Manages Your Music, Loads Your MP3 Player and More
Item Number: 1041
Available Deliverys: Electronic (for $49.95) , or Physical CD (for $54.95)