Easy-Touch Talking Clock
Elegant Half-Circle Clock - With Huge TALK Button
Item Number: 1011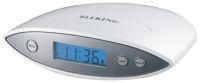 Larger Picture
Listen to this Product
Read the Instruction Sheet
Product Features
Can announce time every hour.
One daily alarm.
Optional snooze feature.
Can speak time in either 12 or 24-hour format.
Spoken instructions guide you through every setting and feature.
Rugged and stylish; digital display, with clear female voice.
Features enormous TALK button on top, and 3 large round setting buttons on the front.
Boasts sliding volume switch with Off, Low, and High.
Flat half-saucer shape, with rubber feet.
Takes 3 AA batteries (not included).

Product Description:
We've all been there ... sound asleep, only to wake up suddenly, terrified we've overslept and will be late for work or school. And in those first few groggy seconds, you'll really appreciate this clock's number one feature: the enormous TALK button, conveniently found on the top of the large, sturdy half-circle shaped unit. The button's easy to find, and pressing it anywhere will instantly cause this nifty clock to speak the time in a clear, female voice. "It's 7:03 AM." (Whew! Only a few minutes behind schedule!!!)
Of course, you should never have to worry about sleeping in anyway, since this clock has that highly-effective beeping alarm, assuming you remember to turn it on, that is. Setting the time and alarm, as well as toggling the Hourly Report feature on and off, is a piece of cake, as the three jumbo-sized round setting buttons are located on the front of the clock, one to the left of the screen and two more to the right. On the underside of the unit is a sliding switch with three settings to control the voice: Off, Low, and High, just to give you ultimate control over when and how loudly your clock speaks. Yet another winning feature about this clock is its low, flat half-saucer shape, meaning it's absolutely impossible to knock it over - and it has rubber feet to help it stay in one place on your nightstand.
In case you hadn't gathered, this clock is one of our absolute favorites. Its rugged yet stylish design makes it ideal for the bedroom or hall table (and just about anywhere else in your home). And yet it's still packed with all those must-have features that any good talking clock should boast. (Oh yes, this beauty takes three AA batteries, which are not included.)
Package Weight: about 9.9 ounces.
(From the Talking Clocks shelf.)
Related Products: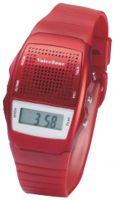 Talking Memo Watch
Listen to the Time ... Plus Record 10-Second Memos
Item Number: 1005
$14.95
Tell Me More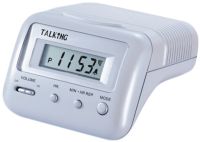 Talking Table Clock
Back to Simplicity - Loud Speech, Large Display
Item Number: 1012
$11.95
Tell Me More