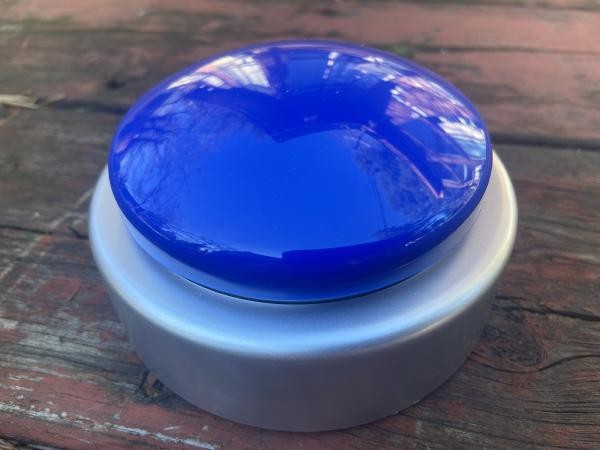 Talking Dome Clock
Item Number: 1264
Product Features
Color: Blue.
Speaks both date and time.
Features one large button on top measuring 3" in diameter.
Very clear male voice.
Sports volume control, high and low.
Set clock in no time.
Excellent for those who are hard of hearing.
Measures about 4 in by 3 in.
Package Weight: about 6.1 ounces.
Product Description
You'll love this unique, easy-to-use clock! The round clock base measures 4 inches in diameter and the easy-to-see speak button itself measures 3 inches across. The clock will speak the time in a clear male voice with one tap of the large button. A second tap of the button will provide the date - "The date is November 21, Sunday." The dome clock also has a Hi/Lo sliding volume switch on it's underside.
Setting the clock is simple. There is a Set button on its underside which speaks readily throughout its set menu. We've never seen such an easy clock to use, with such superb speech!
Clock uses 3 AAA batteries (not included.)
Related Products:
Listen to the Time ... Plus Record 10-Second Memos
Item Number: 1005
$14.95
Elegant Half-Circle Clock - With Huge TALK Button
Item Number: 1011
$14.95
Back to Simplicity - Loud Speech, Large Display
Item Number: 1012
$13.95