Talking Table Clock
Back to Simplicity - Loud Speech, Large Display
Item Number: 1012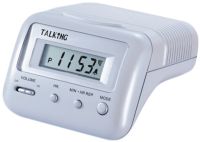 Larger Picture
Listen to this Product
Read the Instruction Sheet
Product Features
Can announce time every hour.
One daily alarm.
Optional snooze feature.
Can speak time in either 12 or 24-hour format.
Spoken instructions guide you through every setting and feature.
Classy, triangular design.
Press thin bar on top for the time in a clear, female voice.
Features very large digital display and speaker.
Easy to hear, with volume control.
Excellent for those with visual or hearing loss.
Uses two AA batteries (not included).

Product Description:
Here's another top-quality talking clock, well-suited for anyone who is after an easy-to-operate model that still does all you need. This clock's classy triangular design lends itself beautifully to any setting: nightstand, office desk, kitchen counter ...
To hear the time, just press the only button on top, a long, thin bar. (Right away, you'll hear the time spoken out loud, like this: "It's 7:44 PM.") The speaker and LCD display on this clock are the largest of any timepiece we offer, meaning this particular model is an ideal choice for someone with partial vision or hearing loss. But even though the speech can be very loud (helping you hear the clock speaking over disturbing background noise such as a blaring television or general hustle and bustle in the workplace), you can always turn it down by using the volume switch.
Setting the time and alarm is extremely straightforward, perhaps easier on this clock than any others we sell, due to the Mode button being larger than the two other set buttons used during the setup process. And of course, our table clock does have that Hourly Report feature (which can be turned on or off at the touch of a single button), and the classic beeping alarm to get you up in the morning. You can also set it to speak the time in either 12-hour or 24-hour military style. (Uses two AA batteries, not included.)
Package Weight: about 8.5 ounces.
(From the Talking Clocks shelf.)
Related Products: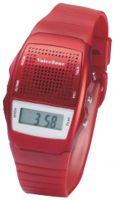 Talking Memo Watch
Listen to the Time ... Plus Record 10-Second Memos
Item Number: 1005
$14.95
Tell Me More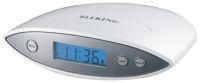 Easy-Touch Talking Clock
Elegant Half-Circle Clock - With Huge TALK Button
Item Number: 1011
$13.95
Tell Me More