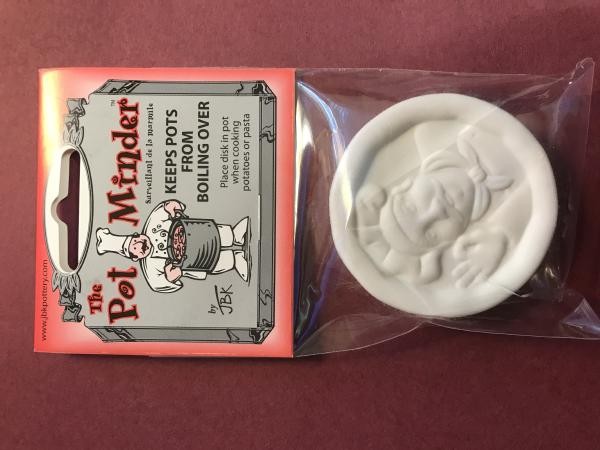 Ceramic Pot Minder
Item Number: 1030
Product Features
small disc measures 2.5 inches in diameter.
Made of thick, food-safe ceramic.
Easy to wash or wipe clean, dishwasher-safe.
Reduces risk of boiling over onto the stove Allows the cook to do other things with an audible reminder when pot boils.
Measures about 2-1/2 in in diameter.
Package Weight: about 1.7 ounces.
Product Description
This ingenious little disc is so simple, yet absolutely invaluable in the kitchen. Just drop it into a pot of water or milk on the stove, and you'll never have to worry about the pot boiling over unnoticed again. This makes it a valuable utensil for those who need an audible reminder, or a prompt for someone with dementia.
Whether you're boiling water for pasta or eggs, cooking soup or vegetables, reheating chilli or just warming some milk for a tasty mug of hot chocolate, the Pot Minder will sit quietly in the bottom of your pot ... until the water boils. Then, it makes a nice loud, rattling or chattering sound, to alert you that your water is boiled. Now it's time to turn down the heat, stir the contents of the pot - or pour your milk into the waiting mug.
This small disc measures two-and-a-half inches in diameter, and is made of thick, food-grade ceramic. You can safely leave it in a pot of boiling water until dinner is cooked, it won't affect the smell or taste of your food one bit. Now you can have as many things on the go as you want, safely washing dishes while your oatmeal cooks. The Pot Minder will keep an eye on things - and let you know when your breakfast needs attention. And when it's time to clean up, the pot minder can be submurged in water or wiped clean with a damp rag, and yes, it is also dishwasher-safe.
Related Products: