Braille T-Shirt, Youth
Full-Color Designs with Raised Print and Braille
Item Number: 6054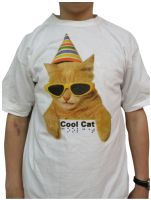 More Pictures
Product Features
T-shirts display full-color artwork, raised print and Braille.
Suitable for blind and sighted kids alike.
Offered in 4 standard kids' sizes.
6 awesome, unique t-shirts to choose from.

Product Description:
Our grown-up-sized T-shirts with braille on them are so popular that we couldn't possibly leave out all those younger Braille enthusiasts! Therefore, we're pleased to introduce an ever-growing selection of designs for kids. These shirts also proudly display full-color artwork, plus raised print letters and braille dots - which everybody can read either by touch or sight.
Our children's T-shirts are again offered in four standard sizes. Based on the average height and weight of a child, one of these sizes will likely fit kids up until around age twelve. But don't forget that, in most cases, kids ten and up will also comfortably fit into a size Small of our adult T-shirts; just something we wanted to point out if the below designs might seem to young for your quickly-growing-up child!
Package Weight: about 6.1 ounces.
The selection process begins again! Please have a look at the several different T-shirts we have produced - then choose the applicable size before adding your favorite design to the shopping cart.
Alphabet
Item Number: 6054-1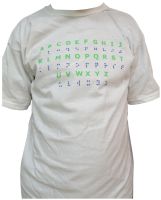 Whenever kids begin learning something knew, they often will approach it with extreme gusto! Why not encourage this zest for learning with a Braille ABC shirt! Also, sighted kids just love presenting a class project on the Braille system, Louis Braille, or Helen Keller while wearing a shirt that clearly shows others how braille works and what it looks like. This white shirt features the entire braille alphabet in dark-blue with corresponding green print letters above each braille letter on the front; and the Braille-only message Braille is Cool on the back, this time in black. (After fellow students have studied the alphabet chart on the front of the shirt, they'll have fun trying to decode that "mystery message" on the back!)
I Love Braille
Item Number: 6054-2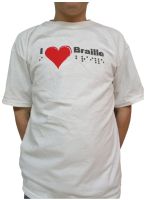 You've seen them everywhere ... Those I (heart) just about anything, from NYC to music shirts. But what you've never likely seen anywhere before is a I Love Braille shirt - so we set out to change that. This white shirt features a simple, clean design, with the message saying, I Love Braille in black print and braille. But the word "Love" has been replaced by a red heart - which is also raised so you can feel it, too! (To put it a different way, the words I and Braille have a tactile red heart in between them.)
Cool Cat
Item Number: 6054-3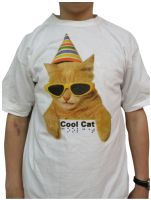 If you adore cats, as well as having a good time, you'll want to wear this shirt to your next birthday party or play date. The front of this white shirt shows a goofy-looking cat wearing shades and a party-hat. Below the cat is the print and braille phrase Cool Cat - appearing in black print letters and purple braille dots.
Wild Ride
Item Number: 6054-4
What child doesn't have at least one fond memory of attending a local carnival or spending a day at the fair? Kids and roller-coasters have been drawn together since ... well ... rides were first invented! This white shirt shows a picture of a speeding roller-coaster, with the accurate caption Wild Ride in pinkish-red print and Braille letters.
Star of the Sea
Item Number: 6054-5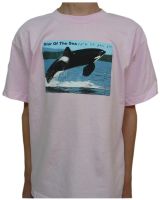 Youngsters are often amazed by anything that's big, powerful, or strong. Well, if you've ever had the extreme privilege of seeing a whale up close - or have observed them on television - you'll know that they're very big, very powerful, and very strong! On the front of this pink shirt is a hansom photo of an orca whale, with the dark-blue slogan Star of the Sea shown beneath in print and braille.
King of the Jungle
Item Number: 6054-6
Even though most of us haven't been on a safari deep in the African jungle, we can still appreciate the wonder of the wild beasts that live there. On the front of this white shirt is a photo of a mighty, roaring lion - with the so-true explanation King of the Jungle appearing below in yellow print and green braille.
Entire Set
Item Number: 6054-7
An unbelievable deal on Braille T-shirts for kids! Pay for four shirts, and we'll give you the other two absolutely free!
Continue Shopping
(From the Braille Apparel shelf.)
Related Products: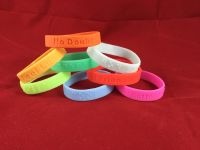 Kids Braille Wristband
Cool Silicone Bracelet, Small Size for Kids
Item Number: 1216
$1.49
Available Messages: Best Friends, COOL, God Loves You, I Feel Lucky, No Doubt, Social Butterfly, Braille is Cool, Alphabet, or the Entire Set (for $9.95)
Tell Me More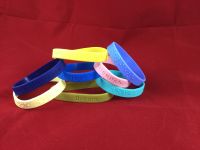 Large Braille Wristband
Popular Silicone Bracelet, for Youths and Adults
Item Number: 1217
$1.49
Available Messages: Believe, Dream, Friendship, Jesus is the Light, Make a Difference, One World, Braille is Best, Alphabet, or the Entire Set (for $9.95)
Tell Me More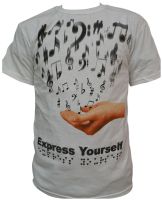 Braille T-Shirt, Adult
Full-Color Designs with Raised Print and Braille
Item Number: 6053
$14.95
Available Designs: Alphabet, Best Friend, Ready to Roll, Rock on!, Always Late, Just for Kicks, Explore Your World, USA, Canada, Braille Superstore (for $9.95), or the Entire Set (for $99.95)
Tell Me More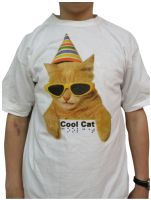 Braille T-Shirt, Youth
Full-Color Designs with Raised Print and Braille
Item Number: 6054
$14.95
Available Designs: Alphabet, I Love Braille, Cool Cat, Wild Ride, Star of the Sea, King of the Jungle, or the Entire Set (for $59.95)
Tell Me More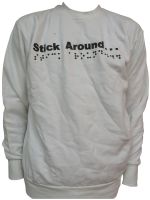 Braille Sweatshirt, Adult
Stay Cozy and Warm While Enjoying Braille Artwork
Item Number: 6055
Available Designs: Stick Around (for $29.95), Reach for the Stars (for $24.95), or the Entire Set (for $44.95)
Tell Me More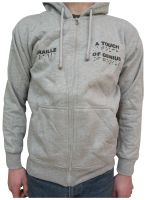 Braille Hoodie, Adult
Highest-Grade Sweater - With Braille on the Front
Item Number: 6056
$49.95
Available Designs: Touch of Genius, Can You Read This, or the Entire Set (for $74.95)
Tell Me More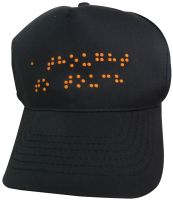 Braille Hat
Wear Braille Up High - For Everyone to See
Item Number: 6057
$19.95
Tell Me More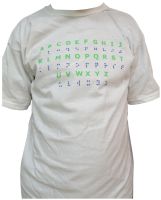 Braille Alphabet T-Shirt, Youth
Intrigue Your Friends - Just for Kids and Teens
Item Number: 1239
$14.95
Tell Me More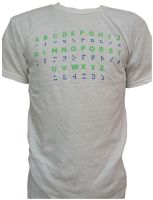 Braille Alphabet T-Shirt, Adult
Great for Teachers, Parents, or Any Fan of Braille
Item Number: 1240
$14.95
Tell Me More