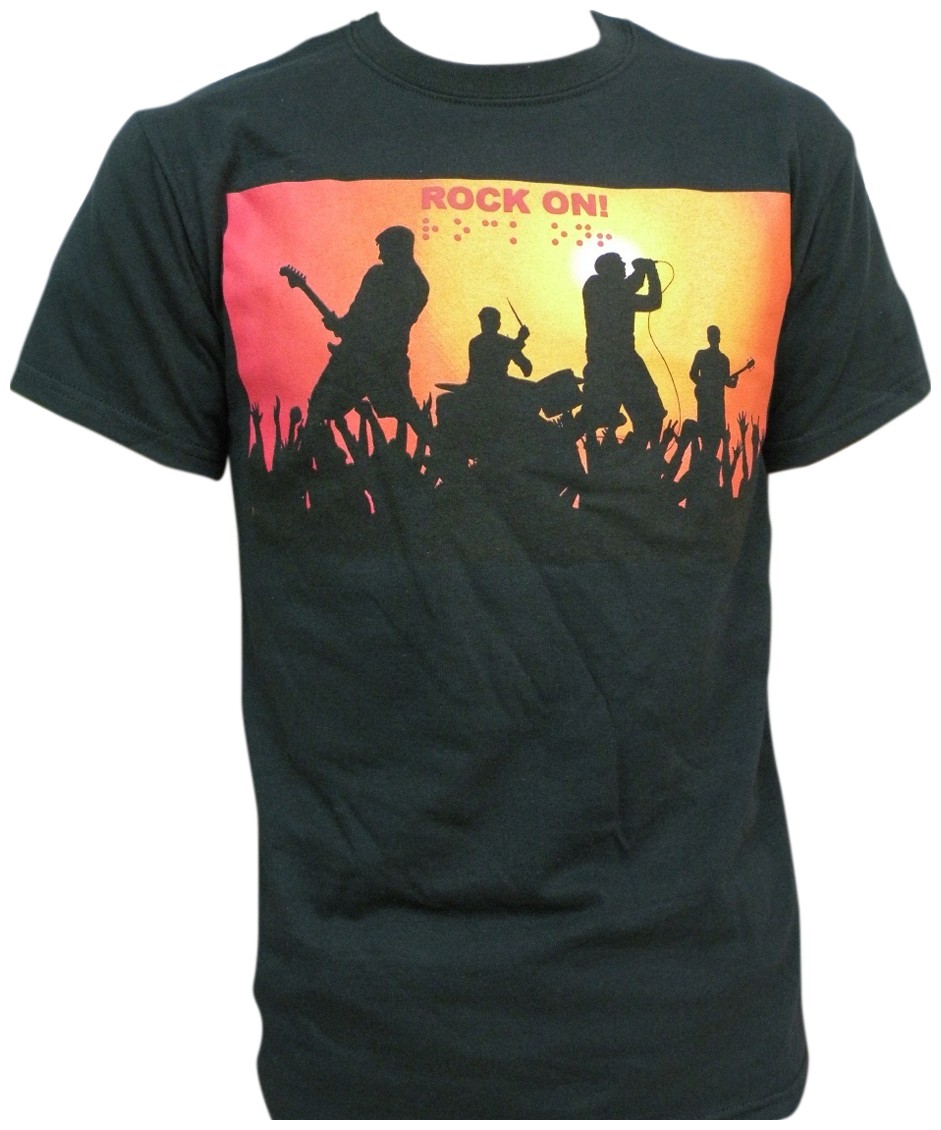 Braille T-Shirt, Adult
Item Number: 2042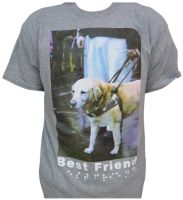 Best Friend
Item Number: 2042-1
Are you a dog-lover? Do you have a guide dog? This one's the shirt for you! On the front of this light-gray shirt is a beautiful yellow lab dog guide, wearing a harness. Below the photo, the words Best Friend appear in white print and braille lettering. (Sorry, the Extra Large size is out of stock, orders for it will be substituted with the Large size.)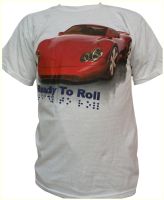 Ready to Roll
Item Number: 2042-2
You don't need to have a driver's license in-hand to enjoy wearing this shirt! On the front of the white T-shirt is a photo of a red sports car, and below it is the print and braille caption, appearing in purple lettering: Ready to Roll. Kids, college students, and even grandparents have all commented on how COOL this one is! (Sorry, the Extra Large size is out of stock, orders for it will be substituted with the Large size.)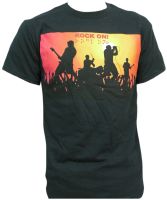 Rock on!
Item Number: 2042-3
So snapping up front-row tickets to the latest and greatest concert is more your thing ... Or watching your favorite band perform in front of thousands of cheering fans? In that case, slip on this black T-shirt, featuring a rock-band and screaming crowd highlighted in light, and the aptly-put slogan Rock on! in red braille dots and print letters. (Sorry, the Extra Large and Large sizes are out of stock, orders for these will be substituted with the Medium size.)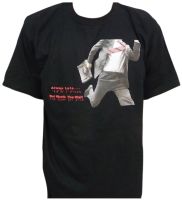 Always Late
Item Number: 2042-4
Okay, punctuality's not exactly one of your strong points ...? Well, here's a humorous way to HOPEFULLY soften those angry glares and stage whispers! On the front of this black shirt is a picture of a frazzled gentleman running to work with a briefcase in his hand. Above our soon-to-be-late fellow are the pinkish-red words Always Late ..., and beneath his running feet is the punch line: But Worth the Wait.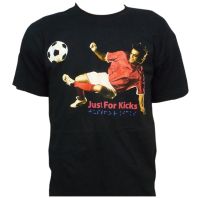 Just for Kicks
Item Number: 2042-5
Sports enthusiasts get a real kick out of this one! The black shirt has a picture of a guy kicking a soccer ball, with the caption Just for Kicks below in pinkish-red print letters and blue braille dots.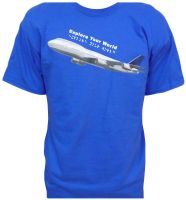 Explore Your World
Item Number: 2042-6
Whether you're in the final stages of planning your family's trip-of-a-lifetime, or are a business traveller who's flown across "the pond" more times than you can count, this shirt's message is guaranteed to hit home! White print and braille lettering on a dark-blue shirt spells out the very desire so many of us share: Explore Your World. Above this saying is a picture of a double-decker aircraft soaring through the sky.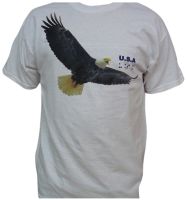 USA
Item Number: 2042-7
Support our troops ... Demonstrate your patriotism ... Or just show others you're mighty proud of the homeland you live in. Whatever the case may be, this all-American classic stands for many of the values the United States was founded upon. On the front of this white shirt are the navy-blue letters USA in print and Braille; beneath this is a picture of a soaring eagle. And on the back of this T-shirt is an American flag in three colors - red, white, and blue. Below the flag, also on the back, are the navy-blue print letters Home of the Brave, followed by braille dots spelling out the same caption. (Sorry; the Extra Large size is sold out - orders for XL will be substituted with Large.)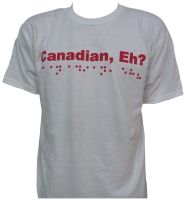 Canada
Item Number: 2042-8
What is it that makes you proud to be Canadian? Is it our bountiful, rolling farmland; picturesque rocky mountains, friendly, welcoming Maritimers; northern lights that simply take your breath away; diverse, multicultural cities; or just the fact that our peace-keepers are known and respected the world over as being the best in the business? However you slice it, Canada's a great place to call home - so why not let others know you feel this way? This white shirt features the print and braille phrase in red: Canadian, eh?. What's more, the question-mark appears inside a colorful drawing of our trademark maple-leaf. And on the back is a photo of the Canadian flag. Braille Superstore
Item Number: 2042-9
If you enjoy shopping here at Future Aids, we'd sure appreciate it if you'd help to spread the word about our high-quality products - coupled with exceptionally-low prices and exemplary customer service! This white T-shirt shows the Future Aids logo (which is an old-fashioned storefront with antique books of all shapes and sizes found on the shelves). Below the logo is the full name of our store: Future Aids (in red) The Braille Superstore (in black); then the same information appears in braille dots. On the back is a bit of a mystery message, so to speak, written only in black braille dots: Touch Tomorrow in Today's Products (that's our slogan we do our best to live by here at the store). (Sorry, the Large and Extra Large sizes are currently out of stock - orders for these sizes will be substituted with Medium.)
The very best deal on Braille T-shirts ever! Pay for eight shirts, and we'll give you the other one absolutely free!
Product Features
All t-shirts feature raised print and Braille.
High-quality, 100% cotton shirts.
Machine-washable with double-stitched hems.
Available in 4 popular standard sizes for older children and adults.
A large selection of nine unique tactile t-shirts.
Package Weight: about 6.1 ounces.
Product Description
Yes, it's true. The
Braille Alphabet T-Shirts
we've been offering to braille enthusiasts for years are still as wildly popular today as they were back when we first introduced them. However, for all of you who've moved beyond the ABC's of Braille and have now made it a part of everyday life, we are pleased to offer nine fresh and cool new designs.
All of these shirts feature tactile lettering in both print and braille. In other words, the braille dots are raised so you can feel them, and the corresponding print text is also raised so anyone can either see it or tactually trace the shapes of the letters. As one of our long-time supporters so eloquently puts it, this serves to "demystify braille". These are simply ordinary T-shirts with the added bonus of having the slogan, message, or saying appearing in both print and braille - which you can read by either sight or touch.
Naturally, we've taken great care to produce high-quality, 100% cotton shirts which are both machine-washable and feature double-stitched hems - many of which feature full-color photos or printing on both the front and back. The braille cells are cleverly and strategically worked into each design to add to the message the shirt is conveying - rather than drowning it out by the simple fact that there's a bunch of mysterious dots on it. Whether you're a big fan of canine or feline friends, composing or listening to music, flying to the nearest state or the next continent, demonstrating your patriotism for your home-country, or just showing others how braille really works, at least one of the below designs is bound to strike your fancy for good, clean fun!
Of course, all of our T-shirts are offered in four standard adult sizes. Kindly remember that the Small size will likely fit older kids as well as slimmer adults and teens. Please be sure to select the size that'll fit you best before dropping your favorite shirt into your shopping cart.
Related Products: