Folding White Cane (AmbuTech)
Must-Have Mobility Aid - Rock-Solid Construction
Item Number: 1123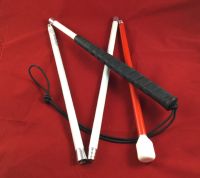 Larger Picture
Listen to this Product
Read the Instruction Sheet
Product Features
Made by a trusted, Brand-name, North-American manufacturer.
Built to last for miles of travel.
Black rubber golf grip is comfortable to hold.
Cane is made of heavy-gage aluminum.
Sturdy joint design provides superior tactile transmission.
Double-elastic assembly method ensures added durability.
Tough nylon marshmallow tip does not easily wear out.

Product Description:
Learning to use the long white cane when travelling as a blind person is the first step in being able to get around independently. Once you have your own cane (and have received proper orientation & mobility training), you'll be able to tap the cane in front of you to detect obstacles, stay safe while crossing streets, etc.
And since situations where a blind person needs to ask someone for a hand or directions are rather common (especially at first), it can help a great deal if you're carrying a white cane with you. The white cane is a universally recognized symbol, thus everyone will immediately understand why you're asking for assistance.
These canes are manufactured by AmbuTech - an internationally-acclaimed producer of top-quality mobility aids for the blind. They're made of heavy-gage aluminum, and are able to withstand considerable abuse. Their sturdy joint design provides superior tactile transmission, and the double-elastic assembly method ensures added durability. The top of the cane has the standard, comfortable flat-sided rubber grip, similar to that found on a golf club. The cane comes complete with a stationary marshmallow tip (already attached for your convenience), which is far and away the most popular tip out there these days. Plus, a strip of bright-red reflective tape near the tip of the cane will help make you more visible to motorists and pedestrians alike when you're on the go at night.
Ever portable, our canes can be folded and unfolded with ease. When not in use, your cane will be around a foot long, which is small enough to slip into a backpack, tuck under a chair, or place across your lap or next to a seat. Naturally, there's a sturdy elastic cord attached to the handle which you can wrap around the four sections to ensure the cane doesn't spring open when you're not expecting.
One final point: our white canes are available in fifteen different lengths, ranging from thirty-six to sixty-four inches. The particular length preferred by the blind user varies widely from person to person. But, generally speaking, the cane should almost come up to your shoulder (that's the shorter end of the scale), or reach nearly to your forehead (the longest anyone would typically ever want it to be). For example, if someone is 5 foot 8, a 52 to 56-inch cane should work nicely.
Package Weight: about 11.3 ounces.
(From the White Canes shelf.)
Related Products: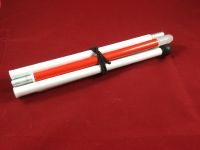 Compact White Cane
Small, Affordable Cane, Lightweight yet Durable
Item Number: 1122
$17.95
Available Sizes: 36 Inches, 40 Inches, 44 Inches, 48 Inches, 52 Inches, 56 Inches, or 60 Inches
Tell Me More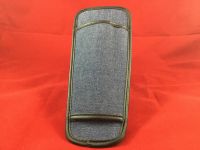 White Cane Holster (AmbuTech)
Denum Carrying Case to Keep your Cane at the Ready
Item Number: 1124
$27.95
Tell Me More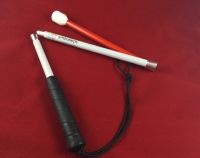 Folding Kiddie Cane (AmbuTech)
Cool Starter Cane for Curious, Exploring Children
Item Number: 1125
$24.95
Tell Me More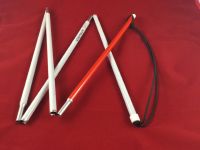 Folding ID Cane (AmbuTech)
Small Backup Model--Lets Others Know You Can't See
Item Number: 1132
$21.95
Tell Me More