Braille Pinochle Cards
Meld Cards and Win Tricks, Be First to 1500 Points
Item Number: 1154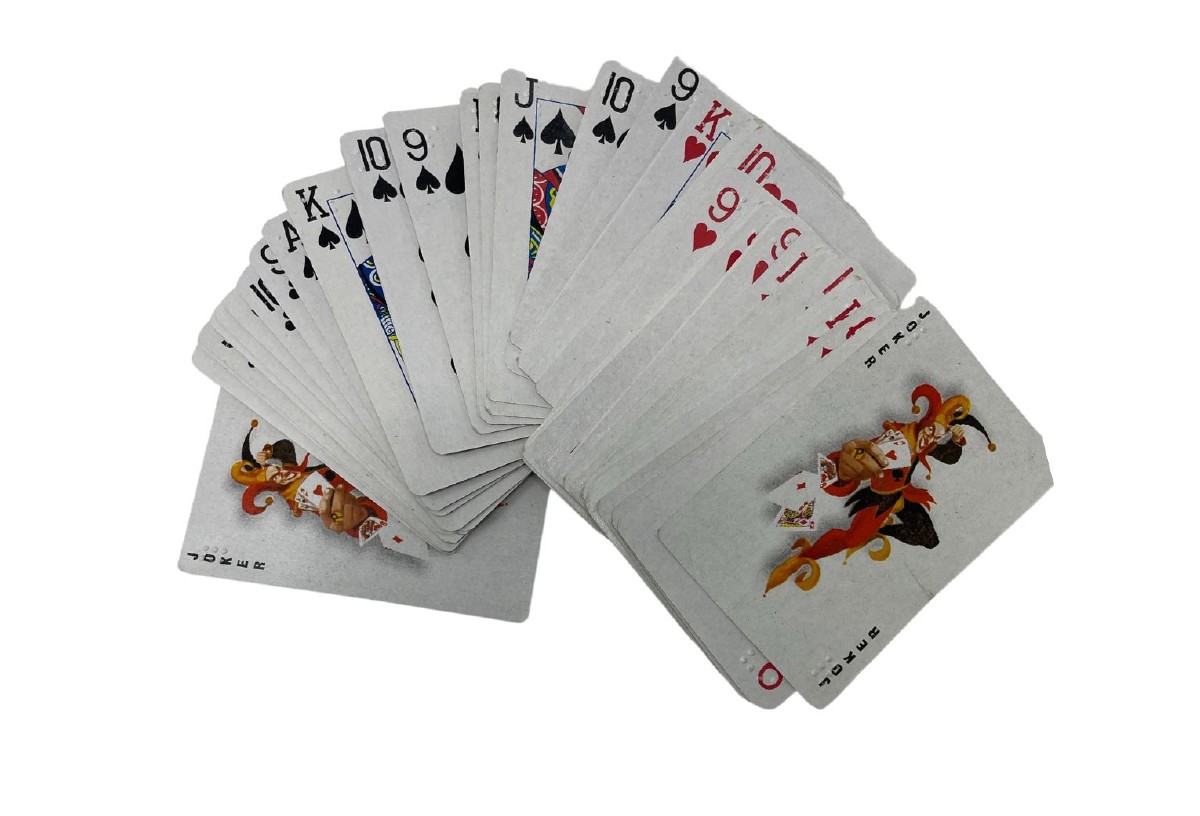 Learn How to Play Pinochle
Product Features
Deck includes 48 cardboard playing cards.
Cards sport Braille on two corners, and full-color printing.
Deck comes packed in a hard-Plastic case.

Product Description:
Pinochle is a fast-paced, somewhat complex card game, but once you've learned it, you'll be hooked! You see, some card games require melds be made, and some have tricks to be won. The super cool thing about Pinochle, though, is you get to do both!
Whether you're playing with a single friend or a group of eight, no one will be left out. Though Pinochle is best suited to four players in partnership, simple variants exist for any number of players.
The first thing a player does when he receives his hand is decides how many points he thinks he can score. This is sometimes a little trickier than it sounds, as his partner's cards may or may not be helpful. After the bidding stage, players make melds with their cards, where there is tremendous possibility to rack up the points. Finally, cards are played out in rounds, and each player or team tries to snag as many tricks as they can. As the game continues, the steaks get higher. Every bid, every play becomes crucial. The race to 1500 points is on!
A Pinochle deck consists of two copies of each of the 9, 10, jack, queen, king, and ace cards of all four suits, for 48 cards per deck. Never fear, though, we've done all the work for you. This Braille Pinochle deck sports crisp Braille markings on two corners of each printed card, and comes in a plastic storage box for safe storage and easy travel.
From thriving cities in Germany to once-hostile United States, German immigrants are credited with bringing Pinochle to the shores of America. By the mid-19th century it had become a household classic, varieties of play springing up everywhere. Today, the game has become so popular that it is hard to find a regular deck of cards on a store shelf without finding a Pinochle deck nearby. The reason is simple ... this game is enormous fun. But don't take our word for it. Come join the excitement - it's time you tried your hand at this exciting card game.
Package Weight: about 4.2 ounces.
(From the Card Games shelf.)