Braille Rook Cards
Item Unavailable.
We don't know when or if this item will be back in stock.
A Classic Family Card Game, Jam-Packed with Fun
Item Number: 1156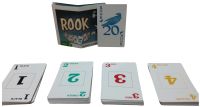 Larger Picture
Learn How to Play Rook
Product Features
Deck includes 56 brand-name playing cards.
Cards sport Braille on two corners, and full-color printing.
Deck comes packed in a hard-Plastic case.

Product Description:
The best card game you're not playing! Since 1906, card players have been enjoying this awesome family game! It's easier than Bridge, more challenging than Hearts, and unpredictable until the last card. Bid, name trump, and take as many tricks as you can ... but look out for that rook! The ultimate wild card, this big bird can swoop in and change everything!
This deck includes 56 cards, in four colors, plus the Rook. Each colored set is numbered 1 to 14, and the numbers and colors are marked in clear, crisp Braille. The rules we've posted here make the game simple, even for well, rookies. Comes in a sturdy, hard-plastic box for easy storage.
So pick up a deck of Rook cards, and break it out the next time you have a gathering of family or friends. Even if some or all have never played, the rules of Rook can be taught in a few minutes, and most people find it interesting and enjoyable straight off. Card games have traditionally been a great way to socialize, and Rooks unique variety of simple rules and complex strategies will appeal to almost everyone! Recommended for ages 8 and up.
Package Weight: about 3.2 ounces.
(From the Card Games shelf.)
Related Products: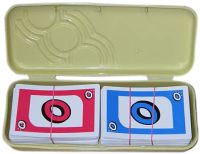 Braille Uno Cards
The Much-Loved Family Card Game, in a Plastic Case
Item Number: 1155
$13.95
Tell Me More