Bibles
We Braille more versions of the Bible than anyone! Individual Bible books are just $20. Now, you can afford to read the Bible in your favorite translation!
We have made it our goal to offer the most complete collection of Bible versions available in Braille. To this end, we carry the following Protestant translations.
King James,
New King James,
New International,
New American Standard,
New Revised Standard,
English Standard Version,
Contemporary English Version,
Modern English Version, Published in 2014.
New Living Translation,
Good News Bible,
The Message.
For Catholics, we offer the Douay-Rheims Translation and the New American Bible. We also have study materials available for the Amplified Bible.
What follows is a list of Bibles we carry in Braille. We are proud to offer the widest selection of translations and study material available in specialized format. But even though our prices are at least half of our competitors, no matter how you slice it, Braille books are expensive to produce. Especially if they're 36 huge volumes like the Entire Bible which, by the way, takes up six feet of shelf space. Yes, that's right, the Bible in Braille is as tall as you. An alternate solution is to look at getting a
Audio Bible
instead. Nothing beats having the Word in front of you, and are Braille Bibles are (and likely always will be) everyone's first choice. But listening to someone read the Scriptures to you is the next best thing, if space or finances are a concern.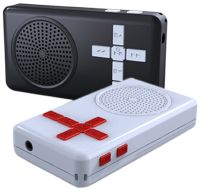 Handheld Audio Bible
Listen to the Bible on a Shirt-Pocket-Sized Player
Item Number: 1263
$59.95
Tell Me More
The Holy Bible in Original Contracted Braille
Inspired Word of God in Grade 2 Braille
Item Number: 4363
$699.95 for The Entire Bible (Individual Books Available for Lower Price)
Tell Me More
The Holy Bible in Unified English Braille
Inspired Word of God in New UEB Braille
Item Number: 4364
$769.95 for The Entire Bible (Individual Books Available for Lower Price)
Tell Me More
The Holy Bible in Original Uncontracted Braille
The Inspired Word of God in Grade 1 Braille
Item Number: 4365
$859.95 for The Entire Bible (Individual Books Available for Lower Price)
Tell Me More
The Amplified Bible in Original Contracted Braille
Clarified Word of God in Classic Grade 2 Braille
Item Number: 4366
$789.95 for The Entire Bible (Individual Books Available for Lower Price)
Tell Me More
The Amplified Bible in Unified English Braille
Clarified Word of God in New UEB Braille
Item Number: 4367
$869.95 for The Entire Bible (Individual Books Available for Lower Price)
Tell Me More
Roman Catholic Bible, Original Contracted Braille
Catholic Word of God in Normal Grade 2 Braille
Item Number: 1261
$739.95 for The Entire Bible (Individual Books Available for Lower Price)
Tell Me More
Roman Catholic Bible in Unified English Braille
Catholic Word of God in New UEB Braille
Item Number: 4368
$814.95 for The Entire Bible (Individual Books Available for Lower Price)
Tell Me More
Roman Catholic Bible Original Uncontracted Braille
The Catholic Word of God in Grade 1 Braille
Item Number: 1262
$939.95 for The Entire Bible (Individual Books Available for Lower Price)
Tell Me More