Bell Volleyball
Temporarily out of stock.
Usually ships in Late December.
A Well-Made All-Purpose Ball - With Bells Inside
Item Number: 1279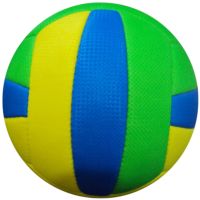 Larger Picture
Listen to this Product
Product Features
Standard size and weight of a professional ball.
Two large bells inside the ball make noise whenever it is in motion.
Versatile, all-purpose jingling ball.
Choose from 3 high quality balls.

Product Description:
Now here's a first for the blind sports enthusiast! Never before has an audible volleyball been made available on the market - and never before has one lonely new type of ball generated so much interest among our customers!
We feel that, if you had to choose only one sporting ball to have rolling around in your gym or yard, this one would be it! Being almost exactly the same size as a soccer ball, one of these volleyballs can easily be substituted for a soccer ball in a backyard game of Soccer (or Football as our European friends call the game). Yet a volleyball's lighter weight lends itself beautifully to other impromptu or informal games - like Kickball, Handball, or even for use in the swimming pool or at the beach. Indeed, the official sport of Volleyball calls for a ball that's sturdy and well-made - yet one that's lighter than a soccer ball; and the reason for this is that Volleyball is played almost exclusively with the hands.
Naturally, this ball (like all the rest we produce) has a few jingling bells inside. Whether you've just thrown the ball across the yard or are waiting as it rolls towards you on the grass, these bells make a gentle yet completely audible tinkling sound during the entire time the ball is in motion.
So, to make a long story short, this is a truly multi-purpose ball. It's bound to get equal use in both the schoolyard and the Olympics!
Package Weight: about 10.6 ounces.
Okay - as usual, we offer several different models of our Bell Volleyballs to suit every budget and fit every taste. The differences in these balls are perhaps more profound than in any of our other sporting balls, however, so please pay close attention to the features of each one to ensure you pick the ball that's just right for you.
Practice Ball
Temporarily out of stock.
Usually ships in Late December.
Item Number: 1279-1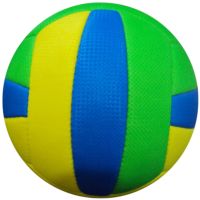 This is an ideal volleyball for beach or backyard matches, as well as everyday recreational use. It's got a robust PVC Matt finish, and is both well-made and well-priced.
Game Ball
Temporarily out of stock.
Usually ships in Late December.
Item Number: 1279-2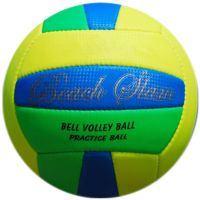 Made from soft sponge touch PVC multi-colored material, this volleyball has a rough, good-grip texture that's still soft to the touch. Suitable for both formal and informal games and matches, this ball's construction and appearance definitely rank it well above a beginner's volleyball.
Pro Ball
Temporarily out of stock.
Usually ships in Late December.
Item Number: 1279-3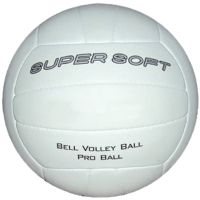 This is our highest quality volleyball for Pro competitions, as well as anyone who likes to buy once - and buy right. This ball's super-soft feel is what makes it stand out among blind and sighted players alike. Its micro-fiber PU coating gives it an ultra-soft feel (even in low temperatures), as well as superb over-night drying capability. The volleyball's Japanese micro-fiber construction also gives it very precise trajectory, and long-lasting performance for professional matches and supple feel on contact - even when hit hard. And yes, this ball meets all official standards as set forth by the IVBF (International Volleyball Federation).
Continue Shopping
(From the Sporting Goods shelf.)
Related Products: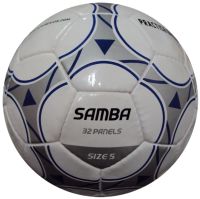 Bell Soccer Ball
Temporarily out of stock. Usually ships in Late December.
A Quality Soccer Ball - With Jingling Bells Inside
Item Number: 1275
$14.95
Tell Me More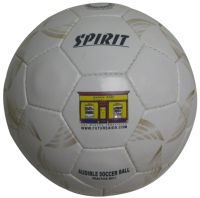 Rattle Soccer Ball
Item Unavailable. We don't know when or if this item will be back in stock.
Attractive Soccer Ball - That Makes Constant Noise
Item Number: 1276
$17.95
Tell Me More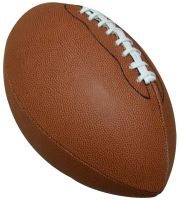 Bell Football
An Ordinary Football - With Jingling Bells Inside
Item Number: 1280
Available Models: Practice Ball (for $14.95), or Junior Ball (for $9.95)
Tell Me More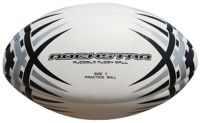 Bell Rugby Ball
A Normal Rugby Ball - Which Makes a Jingling Sound
Item Number: 6030
$9.95
Tell Me More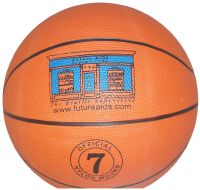 Bell Basketball
A Regulation-Size Basketball with Two Bells In It
Item Number: 1281
$14.95
Tell Me More

Hand Pump
Small and Portable, Easily Inflate any Ball
Item Number: 1282
$2.95
Tell Me More