Talking Sports Watch
Loaded with Features, Clear Voice and Lightweight
Item Number: 1004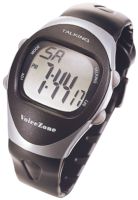 Larger Picture
Listen to this Product
Read the Instruction Sheet
Product Features
Can speak the current date.
Has built-in stopwatch.
Can announce time every hour.
4 daily alarms.
Spoken instructions guide you through every setting and feature.
Black watch with adjustable black plastic band.
Features clear female voice; digital.
Sturdy, versatile, with simple 4-button design.
Runs on 1 CR2016 battery (included).

Product Description:
Color: Black body, rimmed in silver, black band.
This unit could easily be called the economy brand of our Deluxe Talking Watch. Our sports watch has all the features of the more-expensive version, but both the unit and band are made of plastic. A real plus for this watch is the fact that it can be worn by both guys and gals, anyone who likes sports will enjoy this classy design. You can set four alarms to serve as anything from a wake-up call to a Football game reminder ... just get creative. The talking stopwatch will help you time your burgers as they cook, and the hourly chime and date-announce functions make sure time doesn't slip away too quickly. The watch can even speak the time in 12 or 24-hour time. Though it's made of plastic, the band does connect quite firmly to the watch, so it's definitly more sturdy than our classic models. Complete with a clear female voice and easy-to-find buttons on the side of the watch, this is an excellent middle-of-the-line choice. Runs on 1 CR2016 battery, included.
Measures about 2 in. by 1-1/2 in. by 1/2 in.
Package Weight: about 2.8 ounces.
(From the Talking Watches shelf.)
Related Products: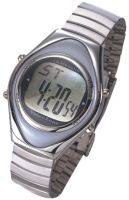 Deluxe Talking Watch
High-End and Stylish, with Sturdy Metal Band
Item Number: 1006
$22.95
Tell Me More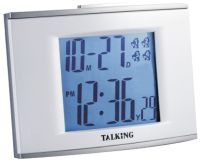 Deluxe Talking Clock
The Only Clock with Four Alarms and a Stopwatch
Item Number: 1018
$14.95
Tell Me More