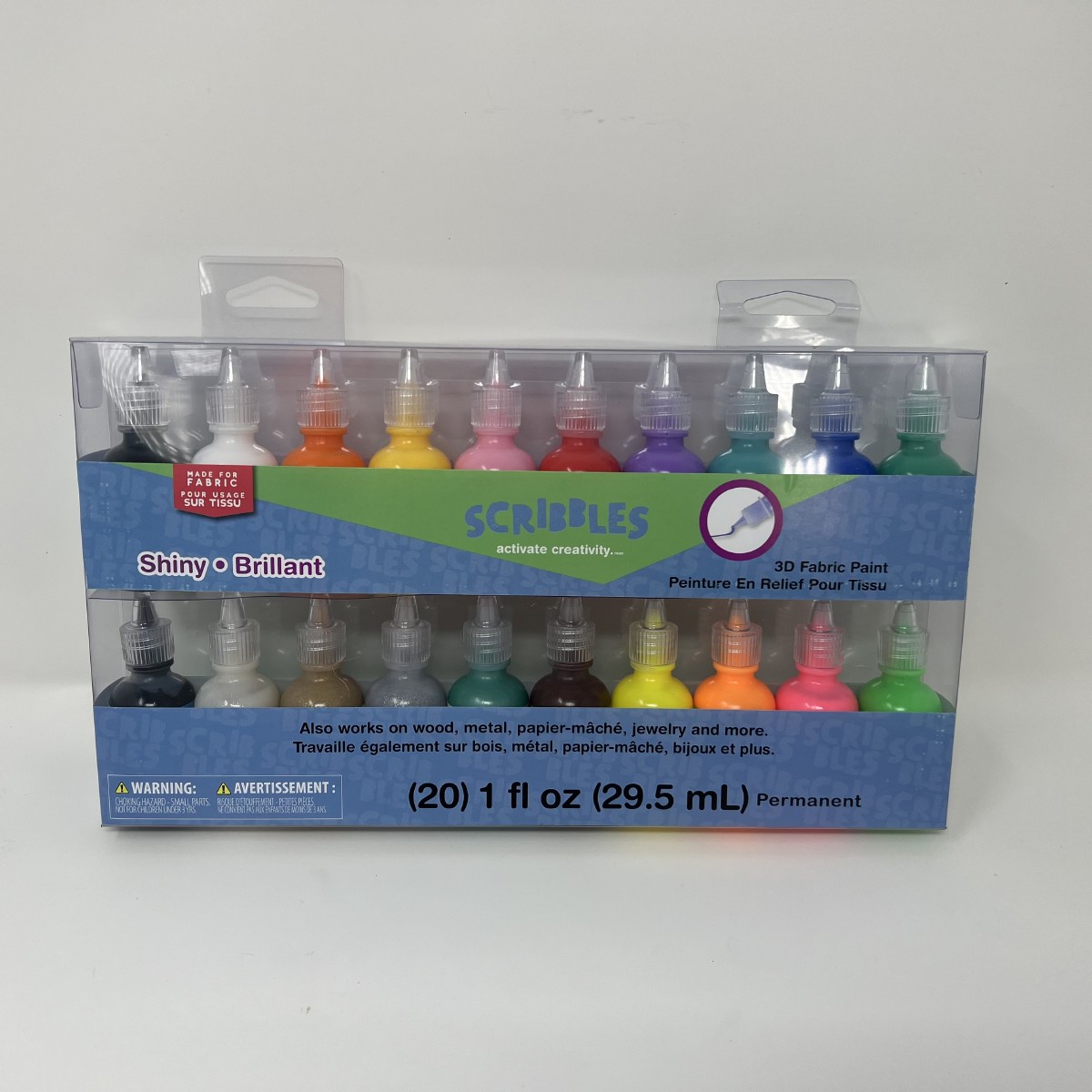 Shiny 3D Paint, 20-Pack
Item Number: 1299
Product Features
Make art and craft projects that can be touched with the fingers.
Ideal for drawings, posters, maps, diagrams, T-shirts, etc.
Blind and sighted kids can enjoy looking at and feeling their work.
Adheres to fabric, wood, metal and more.
Nontoxic - safe for all ages.
Once dry, paint won't crack or peel.
Permanent and machine-washable.
Package includes 20 1-ounce bottles in a variety of fun colors.
Package Weight: about 1.9 pounds.
Product Description
A favorite of crafters across the country, 3D Paint offers durability and great value in a formula that adheres to most surfaces - including fabric, wood, metal and more. It allows kids and adults alike to create drawings, posters and art projects of all kinds that can be touched after the paint dries. Finally - a way blind and sighted children can enjoy painting together!
Want to create custom, colorful, tactile T-shirts for your team? Need to make maps or diagrams that pop with color and raised lines? This multi-pack of 3D Paint will do the trick - and provide plenty of group fun along the way.
As you'd expect, this paint is nontoxic and safe for all ages. Once dry, it won't crack or peel, and it's permanent and machine-washable. Package comes with 20 one-ounce bottles, with a shiny finish. Colors include: Shiny Black, Shiny White, Shiny Bright Yellow, Shiny Bright Orange, Shiny Pink Surprise, Shiny Christmas Red, Shiny Purple, Shiny Medium Blue, Shiny Bright Blue, Shiny Christmas Green, Shiny Black, Glittering Crystal, Glittering Gold, Glittering Silver, Iridescent Seafoam Green, Shiny Hot Chocolate, Fluorescent Neon Yellow, Fluorescent Neon Orange, Fluorescent Neon Pink, and Fluorescent Neon Green.
Related Products:
Mark Household Items with Raised Lines and Shapes
Item Number: 1101
$13.95 Available Packages: Shiny, Matte, or Glitter
Make Lines You Can See and Feel, Incl. Ten Colors
Item Number: 1297
$14.95
Economical Way to Make Tactile Marks and Drawings
Item Number: 1298
$5.95 Available Colors: Black, Red, Blue, Yellow, or White