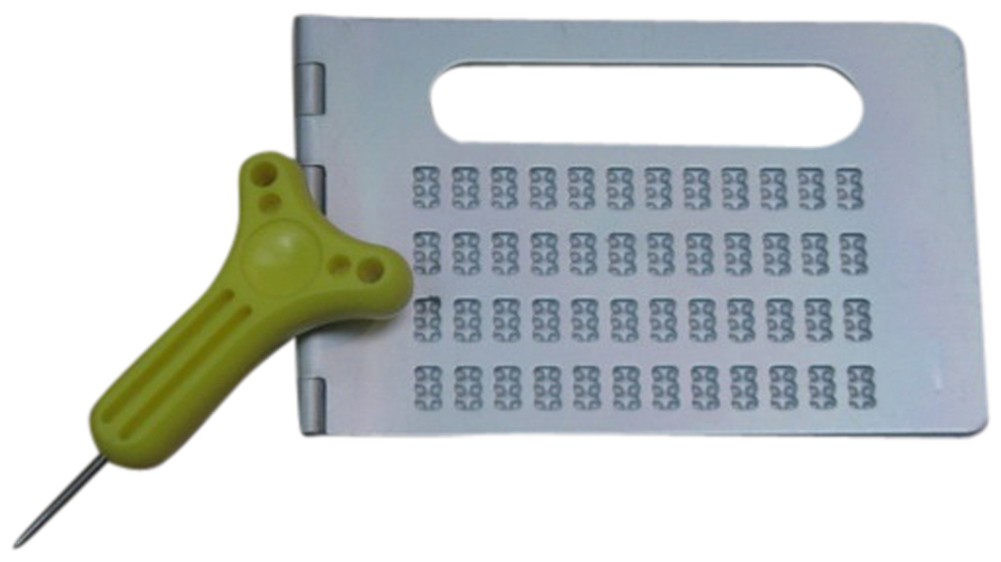 Business Card Slate
Item Number: 1084
Product Features
Ultra-thin, aluminum slate with built-in signature guide.
Emboss 4 lines (12 cells per line) on business cards or Braille Container Labels.
Great starter slate for notes or Braille demos.
Write Braille or sign your name perfectly straight.
Comes with a durable Classic Stylus.
Measures about 4 in by 2-1/2 in.
Package Weight: about 1.4 ounces.
Product Description
This is a great starter slate. Whether you're new at Braille and want to write quick little notes, or simply feel like having a tiny slate that'll easily fit into your shirt pocket, you've just found it. Also, if you're doing a project on Braille, this small slate is the one we'd recommend, because each student can try their hand at Brailing their name on a pocket-sized business card - rather than a full-sized sheet of paper.
This ultra-thin, aluminum slate will emboss four lines (twelve cells per line) on regular-sized business cards. You can also create large, multi-line Braille labels with this slate if you use it in conjunction with our Braille Container Labels.
Above the slate is a small signature guide window, to help you stay straight when signing checks, letters, receipts, etc. (Kids also love the signature guide slot - they use it as a child-sized handle!) So this is really a two-in-one gadget (it lets you write Braille and helps you sign your name in print) - bound to come in handy every time you're out and about!
Related Products:
Measures 2" x 3.5" - Use in Business Card Slate
Item Number: 1085
$2.95 for 50 Cards (Larger Package Available for Better Price)
Large, Pre-Cut Labels for Use in Slate or Brailler
Item Number: 1102
$5.50 for 50 Labels (Larger Package Available for Better Price)