Braille Yahtzee Set
Natural Wood Cup - With Five Tactile Dice Inside
Item Number: 1168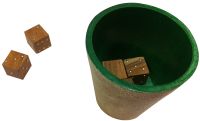 Larger Picture
Learn How to Play Yahtzee
Product Features
Consists of 1 natural wood cup and 5 tactile dice.
Yahtzee is an exciting game of chance.
A great game for both blind and sighted players.

Product Description:
The classic shake and score dice game! Specially designed for blind players, this slightly-larger cup easily holds five wooden dice, each complete with raised dots so everyone will know the value showing when the dice are dropped.
You don't have to be a boater to enjoy the famous game of numbers played and scored with five dice. You do, however, need a cup to roll the dice in - unless you happen to have incredibly-large hands.
Yahtzee is a dice game, almost entirely governed by chance. Common sense helps determine which dice to keep and which to re-roll, but assuming all players use common sense and the dice are fair, the outcome of the game is random.
In the game, a yahtzee is statistically the most difficult roll to obtain as it is comprised of five dice all showing the same face. The probability of obtaining a yahtzee in a single roll is 0.1 percent, and the probability of obtaining a yahtzee in three rolls is 4.6 percent. Don't worry, though - there are thirteen different categories to score. All the players have to do is roll any dice up to three times, to achieve the highest scoring combination possible. Thus, this game is suitable for any number of players - even one.
Yahtzee was invented by a Canadian couple almost fifty years ago, who wanted an easy, fun game that could be played aboard their yacht. Today, the game is widely known across the nation, and played in many parts of the world.
Yahtzee is easy to understand, but it needs to be played to be really appreciated. So pick up our Yahtzee set - specially designed to hold the slightly-larger Braille dice - and throw a Yahtzee party of your own. Includes one wooden cup and five tactile wooden dice.
Measures about 2-1/2 in. by 3 in.
Package Weight: about 1.2 ounces.
(From the Dominoes and Dice shelf.)
Related Products: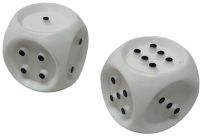 Plastic Dice (With Raised Dots)
Pair of Tactile Dice with Raised, Black Dots
Item Number: 1166
$2.95
Tell Me More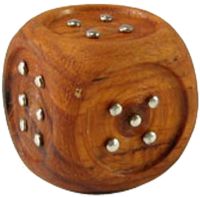 Wooden Dice (With Raised Dots)
Pair of Elegant Teak Dice with Raised, Silver Dots
Item Number: 1167
$4.95
Tell Me More