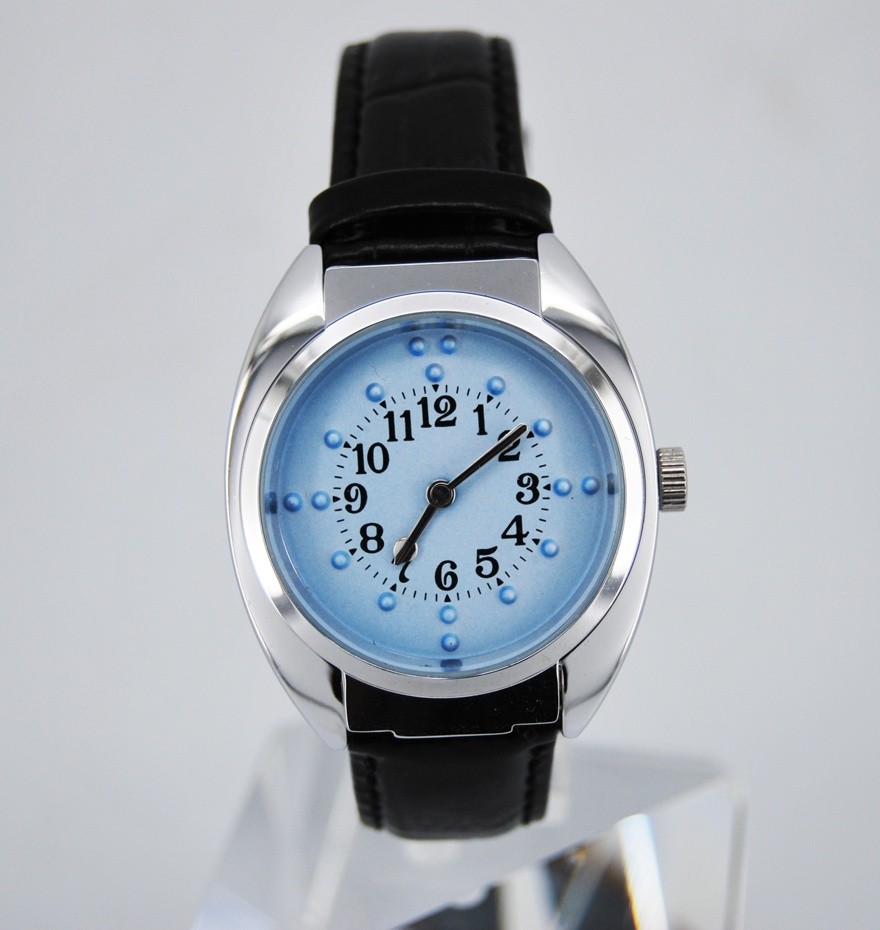 Braille Wrist Watch
Temporarily out of stock. Usually ships in Late August.
Item Number: 1023
Product Features
Color: Shiny chrome/silver, silver metal band.
Unisex design makes watch suitable for both guys and gals.
Face opens at the 6 o'clock position.
Tactile markings make it easy to tell the time by touch.
Quality quartz movement always keeps the correct time.
Inner diameter of the face is 1.07 inches (2.74 CM).
Features analog design (dial and hands).
Stretchy metal band is easy and comfortable to wear.
Boasts silver watch and band.
Package Weight: about 3.9 ounces.
Product Description
Are you tired of having the Hourly Announce feature on your talking watch going off in church? Do you dread pressing your watch in the middle of the night for fear of waking others up? These are just two of many prime examples when you could really use a Braille watch! (Actually, even though they're known as "Braille watches", in reality you don't have to know a single number in braille to tell the time by touch with one of these tactile timepieces.)
Our braille watch offers exceptional quality at a great low price. It is entirely unisex, which means its coloring and design is suitable for both men and women alike. It comes with a stretchy metal band, so it's always easy to put it on - or quickly take it off.
So how does it work? The concept behind a Braille watch is really quite straightforward. Put simply, they're designed with an analogue face that can be tactually felt to learn the time. In other words, the glass lid is on a hinge and can be easily lifted up, and the hour and minute hands can be lightly touched. Around the rim of the face are tactile markings: a line at 12:00 o'clock, two dots at 3, 6, and 9 o'clock, and one dot at the hours in between. The lid opens at the 6 o'clock position, and the watch has been fitted with a quality quartz movement.
A braille watch is another great way for a blind person to tell the time - on their own, quietly, and independently. Plus, one of these tactile watches makes a great gift as they come to you boxed with an attractive color sleeve. (Operates on a single Renata 364 button-cell battery, which is both included and installed.)
Related Products:
Temporarily out of stock. Usually ships in Late August.
Either Touch Hands, Or Press Talk, to Get the Time
Item Number: 1025
$49.95
Lift the Lid to Touch the Time - Noiselessly
Item Number: 1026
$14.95
Temporarily out of stock. Usually ships in Late August.
Touch the Time, Tucks into Pocket, Comes on Chain
Item Number: 1322
$34.95