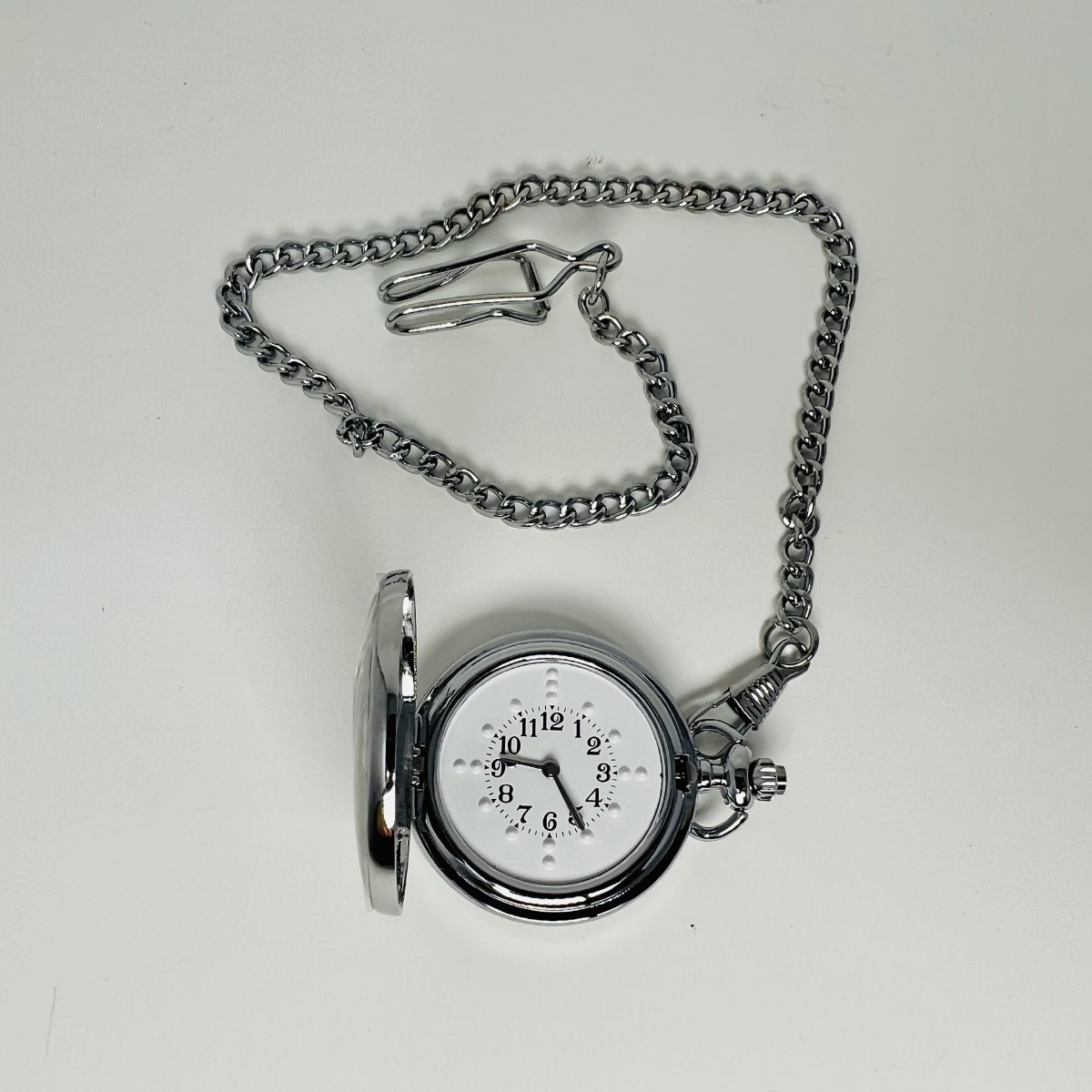 Braille Pocket Watch
Item Number: 1322
Product Features
Color: Silver.
Unisex design makes watch suitable for both guys and gals.
Comes on stainless steel chain.
Keep in your pocket, or wear around your neck.
Face opens at the 9 o'clock position.
Tactile markings make it easy to tell time by touch.
Quality Swiss quartz movement always keeps the correct time.
Discretely check the time without disturbing those around you.
Watch case measures 43 MM in diameter; face measures 30MM across.
Product Description
Ideal for anyone seeking a stylish tactile timepiece, our Braille Pocket Watch allows you to discretely check the time without disturbing those around you. Tuck the watch into your pocket - or wear it around your neck using its stainless steel chain.
The unisex design of this tactile pocket watch makes it suitable for men and women. Silver in color, the watch case measures 43MM in diameter, and the face itself is just 30MM across. The watch features Swiss Quartz movement for accurate timekeeping. Raised dots around the face make it easy to tell the time by touch, and the lid opens at the 9 o'clock position.
If you're not the world's biggest fan of wristwatches, or simply prefer the convenience and durability of a pocket watch, this well-made, attractive timepiece may well be what you've been looking for!
Related Products:
Either Touch Hands, Or Press Talk, to Get the Time
Item Number: 1025
$49.95
Lift the Lid to Touch the Time - For Men and Women
Item Number: 1023
$39.95
Temporarily out of stock. Usually ships in Late November.
Lift the Lid to Touch the Time - Noiselessly
Item Number: 1026
$14.95