Bingo Family Pack (Brailled)
Set of Four Playing Boards, Call Numbers, and More
Item Number: 1164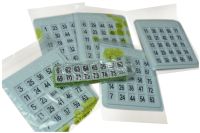 Larger Picture
Learn How to Play Bingo
Product Features
Everything you need so everybody can play Bingo.
Included are 4 unique Bingo Playing Boards, markers, Bingo call numbers, and a package of Bingo Call Boards.
Numbers are provided in Braille and print.

Product Description:
It's true that the most popular venue for Bingo is a huge party or official tournament. But that's not the only way you can play. Arguably, it's even more fun to play in a small group, because everyone knows everyone else and can help younger ones check numbers and place markers. Yes, the small group we're thinking of here is a family.
The beauty of a family game is the person calling out the numbers can also join in the fun. So, for your All-American family, here are all the supplies you'll need.
Included in this package are four unique Bingo Playing Boards - and the markers to go with each board. You'll also receive the Bingo call numbers, which the Caller will draw at random and announce to the group. Finally, we'll even throw in a package of Bingo Call Boards, so you can place the numbers that have already been called in sequence for verification later. Of course, all of these supplies have both Braille and regular print on them, so everyone can read and enjoy the game.
Just like Golf, Hockey or Soccer, you need the right tools to play a good game. So here they are. Pick up our new Bingo Family Pack, and let the fun begin!
Package Weight: about 1.2 pounds.
(From the Card Games shelf.)
Related Products: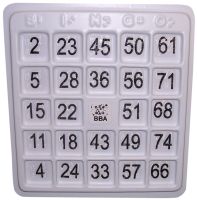 Bingo Playing Board (Brailled)
Hard-Plastic Card with Large Print and Braille
Item Number: 1161
Available Packages: 1 Count (for $6.95), 5 Count (for $32.95), 10 Count (for $59.95), or 25 Count (for $124.95)
Tell Me More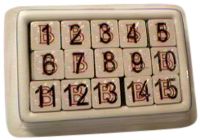 Bingo Call Numbers (Brailled)
Braille Foam Tiles with Numbers from 1 to 75
Item Number: 1162
$11.95
Tell Me More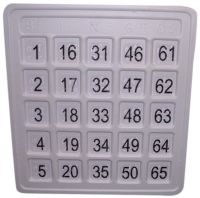 Bingo Call Board (Brailled)
Plastic Board to Hold Numbers After They're Called
Item Number: 1163
$13.95
Tell Me More