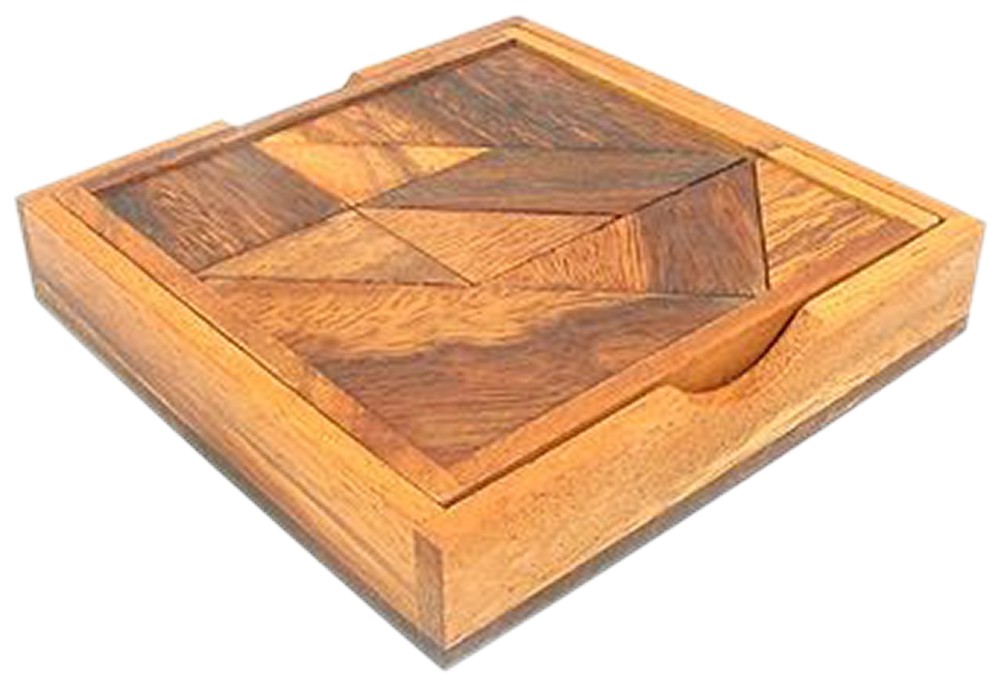 Wooden Tangram
Item Number: 1176
Product Features
Ancient Chinese puzzle guaranteed to fascinate young and old.
Stored in an attractive 5-inch square wooden box.
Geometric figures fit into a wooden tray.
Geometric shapes create a larger, complete puzzle.
Each shape is divided into 2 or 3 triangles; must be combined to construct the square or parallelogram used to assemble tangram.
Contains nine pieces, plus tray and wooden box.
Popular in math classes as an educational tool.
A fun and challenging gift! Measures about 5 in by 5 in by 1 in.
Product Description
This ancient Chinese puzzle has intrigued people for centuries. A tangram is one of those classic puzzles which appeals to the young and old, the serious and the carefree. Basically, a number of geometric shapes lie side-by-side to make up a larger, complete puzzle. But each shape itself is divided up into two or three triangles which must be neatly combined before you have a square or parallelogram - which you can then use as an integral puzzle piece to get the tangram back together. (In fact, it is all these individual triangles forming larger shapes, which, in turn, make up a complete puzzle that has earned tangrams a permanent place in math classes around the world.)
Our tangrams make stunning gifts. The solid wood pieces fit into a wooden tray (at least they do when we ship your puzzle to you!). And you also get a five-inch square wooden box to store the entire set in. This simple yet ingenious design will keep everyone eagerly offering suggestions as to where each piece should go!
Related Products:
Great Cube for On the Road, Pieces Snap into Place
Item Number: 1175
$9.95