Solitaire Board Game
Try to Clear the Board of All but 1 of the 32 Pegs
Item Number: 1192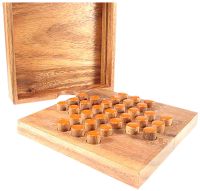 Larger Picture
Learn How to Play Solitaire
Product Features
Challenging brain-teaser.
32 wooden pegs on a 6" square wooden board.
Comes with a convenient wooden storage box.

Product Description:
Even though Solitaire is easy to learn, it presents you with an ongoing challenge to master, and has become an especially popular solo board game in recent years. To play this challenging brain-teasing game all by yourself, you set up the thirty-two wooden pegs on the six-inch square wood board - leaving the space in the very center empty. Then, by moving any peg just one space horizontally or vertically (no diagonal moves allowed!), you begin eliminating other pegs.
As you'll soon discover, there's a real trick to figuring out which way you should move each peg - as you don't want to end up with a bunch of dud pegs with nowhere to go! If you finish the game with just one peg left on the board, you're a genius; with two pegs you're above intelligent; three pegs you're intelligent; and four or more pegs - well, you need practice!
A great way to amuse kids and grown-ups alike when there's no one else around to play with, this game even comes with a wooden storage box to keep everything nicely contained.
Measures about 5-1/2 in. by 5-1/2 in. by 1-1/4 in.
Package Weight: about 7.8 ounces.
(From the Brain Teasers shelf.)
Related Products:
Fatal error: No other related products found for class Solitaire