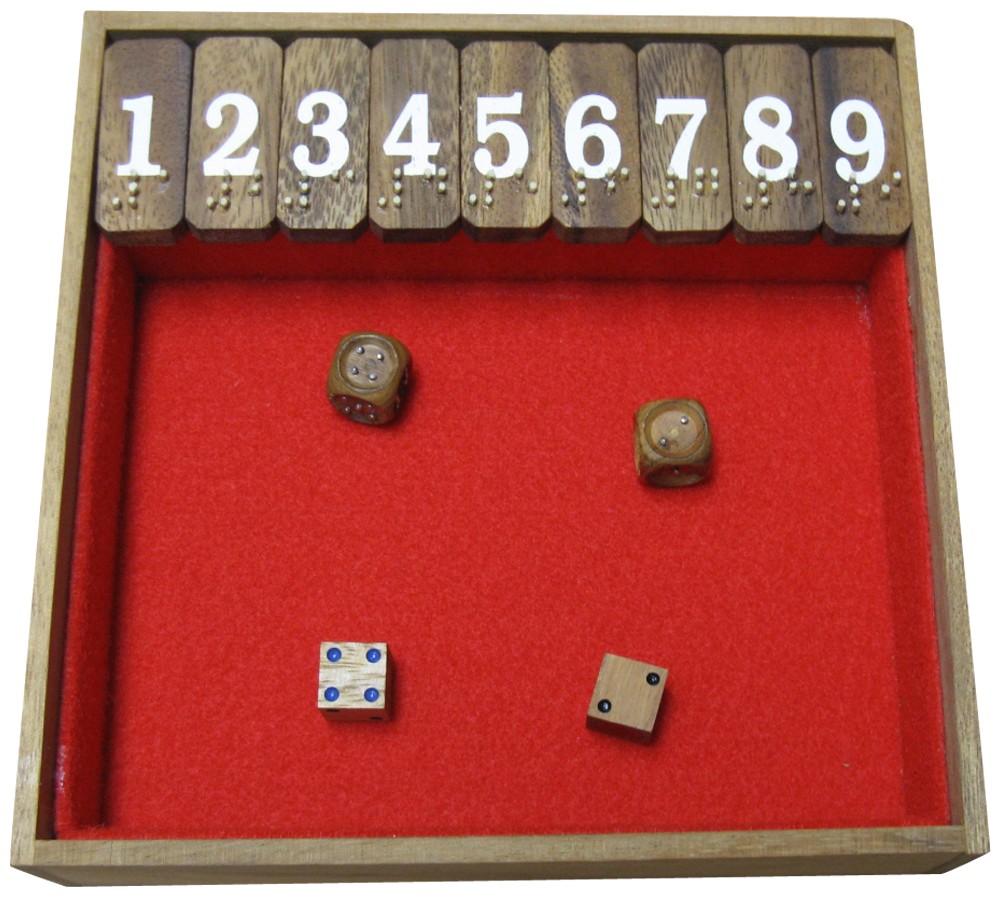 Shut the Box (Brailled)
Item Number: 1162
Product Features
Also known as Canoga.
High quality, solid wood playing tray.
Measures 9" by 5".
Has nine separate swinging wooden tiles marked in print and Braille from 1 to 9.
A challenging game of skill and luck.
Has kids adding up dice and matching to box numbers.
Includes a set of tactile wooden dice.
Measures about 9 in by 5-1/4 in by 2 in.
Product Description
Also known as
Canoga
, this old favorite has been enjoyed in European pubs and homes for centuries. The gorgeous, solid wood playing tray measures 9" by 5", and has nine separate swinging wooden tiles - marked in print and Braille from 1 to 9. Each Braille number is made with large metal dots, which are embedded right into the wood - so it'd take someone with real determination (and a chisel) to get them out. And in front of the numbered doors (built right into the game board) is a large, velvet-lined dice-rolling area - a feature that will make this self-contained game your first choice for long drives or bus rides.
Shut the Box is a challenging dice game of skill and luck for any number of players. The object is to close as many numbered boxes as possible, according to a throw of the dice. You can close any combination of boxes - but the numbers you pick must equal the sum of the dice. To keep score, just add up the values from the remaining unclosed boxes; and the person with the lowest score after five rounds is the winner! This is an awesome family game - adults can play for the pot, and kids will get practice manipulating numbers and sums. Included are two regular wooden dice, and a pair of Tactile Dice - so the whole family can join in the fun.
How to Play Shut the Box
Directions courtesy of Future Aids, The Braille Superstore.
We have Shut the Box (Brailled) in stock, delivered with free shipping. Click below to order.
Also called Canoga, Shut The Box is a fun and easy game for everyone. It's great for adults (who want to play a quick and random game, requiring little concentration or skill, and give the winner "the pot." But Shut the Box is also a fine choice for kids, as it helps them to learn to manipulate numbers and sums.
So what's the game all about, and who is it for? Everyone! In a nutshell, the goal of Canoga is to get the lowest possible score. Remember, there's no limit on the number of players that can join in the fun, so that may sound easier than it really is. At the end of the game, the player with the lowest score wins.
Quick Rules. Roll the dice and cover up the number that your roll totals. Any combination of your total can be flipped up. Keep rolling until you run out of numbers that can be flipped to get your total. Whatever numbers remain total your score. LOW score wins!
Example of Play. Firstoff, open the lids of all the boxes. Grab the dice, and you're ready to go!
The game now begins with the first player rolling the dice. He can then close the lid of one or two boxes that match his roll. For example, if he rolls a 9, he can close the 9, the 8 and 1, the 7 and 2, or any one or two-number combination which totals his roll. Then, player one again rolls the dice, and closes one or two more lids of the box.
Play continues in this manner until player one rolls a number that cannot be played. For example, if he rolls a 9, but has already used all possible combinations while making other rolls, his turn is over.
Player one now counts up all numbers which have not been closed. This is his score, and he is finished playing.
The second player now opens the lids of all the boxes. She's ready to play.
Remember: the lowest score wins!
Canoga is a great way to learn how to manipulate numbers. This old favorite has been enjoyed in European homes for more than three hundred years.
Ask a Question About this Product
(From the Board Games shelf.)
Related Products:
Avoid Holes and Be First Across the Finish Line
Item Number: 1163
$11.95
A Full-Sized, All-Wood Board Game for 4 Players
Item Number: 1165
$29.95