Connect Four (Tactile)
Vertical Strategy Game, Make a Line of Four Coins
Item Number: 1182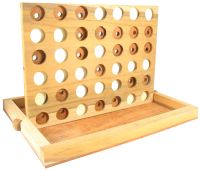 Larger Picture
Learn How to Play Connect Four
Product Features
Self-contained playing board and pieces.
Board and pieces are made of solid wood.
Ten-inch playing board is easy to follow by touch.
White coins have a hole in them to separate them from the black ones.
Game is compact and portable.

Product Description:
Here's a great idea for kids and parents alike! The object of this vertical strategy game is to make a row (either horizontally, vertically, or diagonally) of four of your checkers - without being blocked by your opponent.
When it's all set up, the solid wood game board stands almost ten inches high, which makes it many times larger than most Connect Four sets you'll find out there. The game includes 42 wooden playing pieces - half in natural dark wood, and the remainder are painted white. What's more, The dark checkers have a large hole in the center to make it easy for blind players to tell them apart from the white ones. And once it's time to put the game away, you simply tuck all the discs into the board, fold the board down flat into the included wooden base, and lock everything in place with two sturdy wooden pins.
This hilarious game is sure to provide hours of fun for the whole family. And its gorgeous, all-wood construction, coupled with its extreme portability, makes it the ideal choice for game nights, picnics, or car trips ... near or far! Some enterprising folks have even used it as a kind of two-person scoreboard!
Measures about 11 in. by 9 in. by 1 in.
Package Weight: about 1.1 pounds.
(From the Board Games shelf.)
Related Products: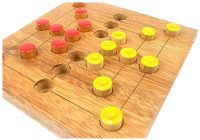 Nine Men's Morris (Tactile)
Ancient Strategy Game - Try to Make Lines of Three
Item Number: 1178
$9.95
Tell Me More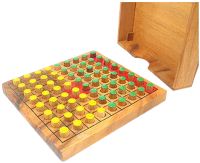 Othello (Tactile)
Outflank your Opponent, Win all the Pegs you Can
Item Number: 1179
$13.95
Tell Me More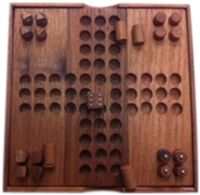 Parcheesi (Tactile)
Classic Cross-and-Circle Game - Try to Get Home
Item Number: 1180
$9.95
Tell Me More