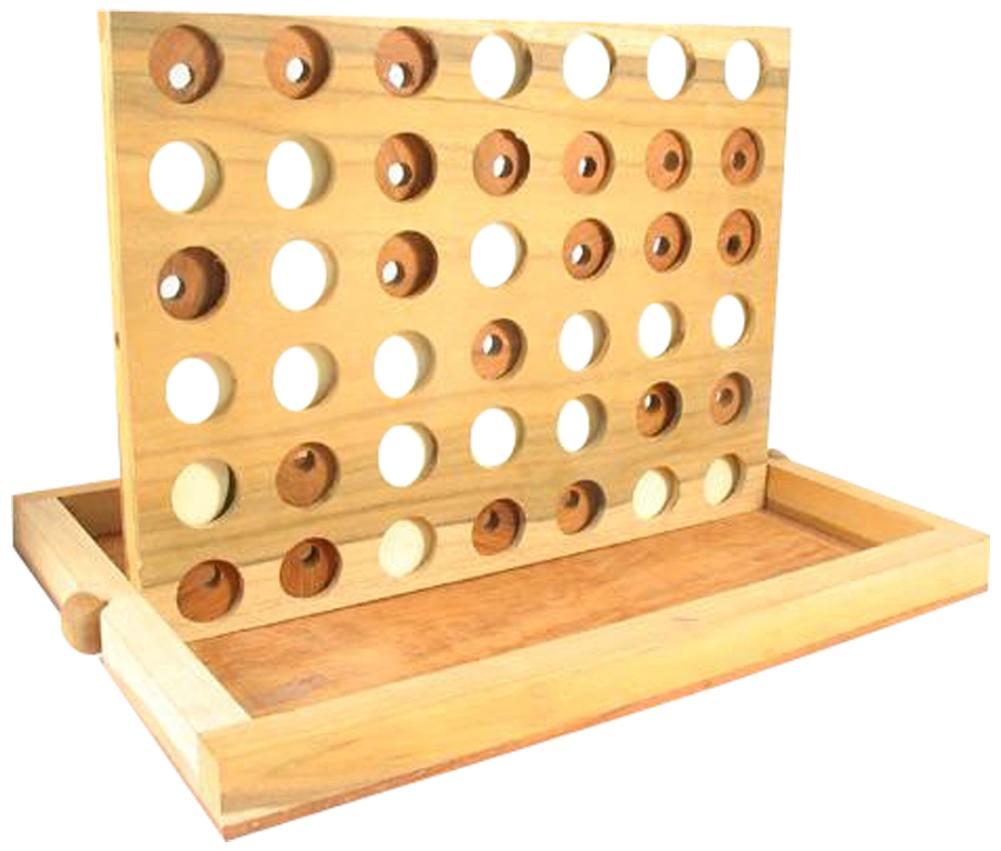 Connect Four (Tactile)
Item Number: 1161
Product Features
Self-contained playing board and pieces.
Board and pieces are made of solid wood.
Ten-inch playing board is easy to follow by touch.
White coins have a hole in them to separate them from the black ones.
Game is compact and portable.
Measures about 11 in by 9 in by 1 in.
Package Weight: about 1.1 pounds.
Product Description
Here's a great idea for kids and parents alike! The object of this vertical strategy game is to make a row (either horizontally, vertically, or diagonally) of four of your checkers - without being blocked by your opponent.
When it's all set up, the solid wood game board stands almost ten inches high, which makes it many times larger than most Connect Four sets you'll find out there. The game includes 42 wooden playing pieces - half in natural dark wood, and the remainder are painted white. What's more, The dark checkers have a large hole in the center to make it easy for blind players to tell them apart from the white ones. And once it's time to put the game away, you simply tuck all the discs into the board, fold the board down flat into the included wooden base, and lock everything in place with two sturdy wooden pins.
This hilarious game is sure to provide hours of fun for the whole family. And its gorgeous, all-wood construction, coupled with its extreme portability, makes it the ideal choice for game nights, picnics, or car trips ... near or far! Some enterprising folks have even used it as a kind of two-person scoreboard!
How to Play Connect Four
Directions courtesy of Future Aids, The Braille Superstore.
Our handsome, wooden version of Connect Four is well-suited for players with and without sight, kids or adults. It's a positional board game similar to Tic-Tac-Toe. The major difference is it is played on a vertical board. Hence, only the lowest position of a column can be occupied. A player wins by making a line of four discs of his color in a row, either horizontally, vertically, or diagonally.
Before you begin, Stand up the playing board, and divide the discs between two players. You'll notice that one set of colored discs has a hole in the middle, so blind players can tell their pieces apart.
Now each player takes turns dropping one disc into any row. Because four discs in a line are required to win, trying to make a vertical or horizontal line is usually not a very successful tactic. A diagonal line requires much more skill and planning.
Remember, you must endeavor to block your opponent from making a line of four, while trying to complete a line of your own at the same time. This does require a bit more concentration than most beginners realize, because Connect Four is a vertical, 3-D game.
Ask a Question About this Product
(From the Board Games shelf.)
Related Products: