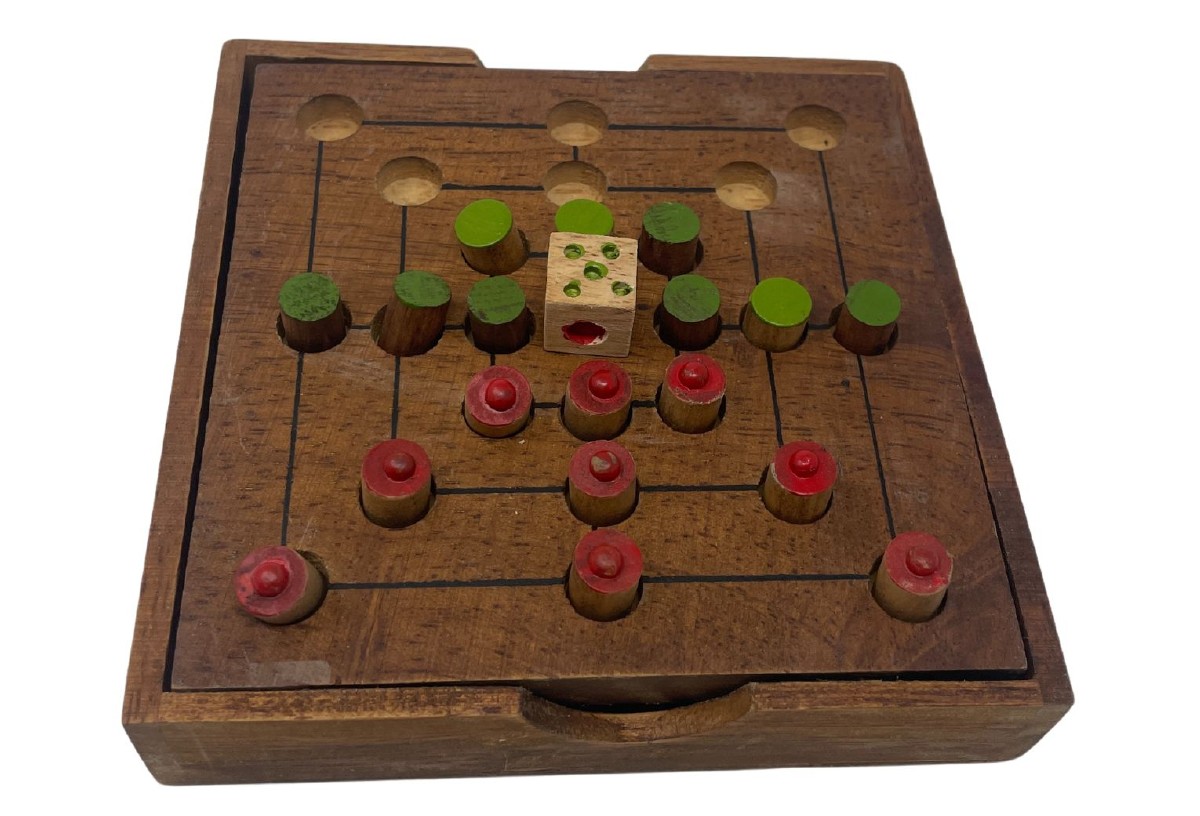 Chinese Checkers (Tactile)
Item Number: 1156
Product Features
A fun two-player game.
Game board is made entirely of wood.
Board comes with a lid for safe storage.
Designed for both blind and sighted players.
Features a tactile dot on top of one team's pieces.
Measures about 5-3/4 in by 5-3/4 in by 1-1/4 in.
Package Weight: about 8.1 ounces.
Product Description
Here's an old family favorite! The idea behind Chinese Checkers is to move all your men across the board, and occupy your opponent's star. To win, however, you have to do this before the other player does.
This two-player game is entirely made of wood, and comes with a lid to keep the pieces from getting lost. And yes, one team of pegs has a tactile dot on the top, so blind players will know which set of pegs is theirs.
How to Play Chinese Checkers
Directions courtesy of Future Aids, The Braille Superstore.
We have Chinese Checkers (Tactile) in stock, delivered with free shipping. Click below to order.
Did you know? Chinese Checkers was not invented in China. Our game comes from a game called Halma, which actually originated in Germany!
Chinese Checkers is a fun game for kids of all ages. Our Chinese Checkers game has a dot on one set of pegs, so blind players know whose pegs are whose.
Chinese Checkers uses a special board that has triangular areas that look like the point of a star. Each player should place his ten colored pegs in the point of his own star, across the board from his opponent.
The object of the game is to get all of your pegs, or men, to the opposite point of the star. The first player to do this wins.
Taking a Turn. When a player takes a turn, she may move one peg. The peg can be moved to an adjacent open space or may jump over other pegs that are right next to the peg. You can only jump over 1 peg at a time (for example you can't jump over 2 pegs that are next to each other), but you can do multiple jumps on the same turn; as long as the hops are all lined up.
You can hop over your own or your opponent's pegs. You do not have to hop over a peg if you don't want to. You can move or hop in any direction.
Remember, you must never remove a peg after a jump is made. All the pegs must stay on the playing board.
Note: as the playing of the game draws to a conclusion, it must be distinctly understood that a player cannot stubbornly remain in his or her original starting point in order to prevent an opponent from finishing the game.
Ask a Question About this Product
(From the Board Games shelf.)
Related Products:
Dot on White Men, Pieces Fit Snuggly into Board
Item Number: 1154
$24.95
Spair, Complete set of Men for Classic Checker Set
Item Number: 1155
$6.95
Compact Game, Uses Pegs with Dots and Notches
Item Number: 2023
$14.95