Checkers Set, Classic (Tactile)
Dot on White Men, Pieces Fit Snuggly into Board
Item Number: 1175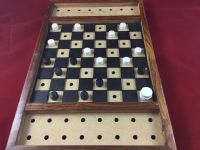 Larger Picture
Demonstration Video
Watch on YouTube Learn How to Play Checkers
Product Features
A great tactile version of checkers.
Perfect for both blind and sighted players.
Boasts wooden checkerboard with plenty of space to lay out a game.
White squares are elevated; black squares are recessed.
Holes in center of squares to securely hold pieces in place.
Raised dot on white pieces for tactile discrimination.

Product Description:
So you're not a big fan of chess games that seem to stretch on for hours on end ... Or perhaps you're new to the idea of playing board games by touch? well, it sounds as if our completely tactile version of checkers is for you!
Just like our chess sets, every detail of this adapted version of checkers is tactual, allowing blind and sighted players to enjoy it together. The wooden checkerboard itself measures almost 9" by 13" - plenty of space to lay out a game of checkers. On the board, the white squares are raised above the black ones, and the squares even have holes in the center so the pieces won't fall over. As for the plastic checkers, the white pieces have a large dot on the top, and, of course, the kings are twice as large as the pawns. And again, you don't have to know Braille to play this game!
Measures about 14 in. by 9 in. by 1 in.
Package Weight: about 1.5 pounds.
(From the Board Games shelf.)
Related Products:

Replacement Checkers (Tactile)
Spair, Complete set of Men for Classic Checker Set
Item Number: 1176
$6.95
Tell Me More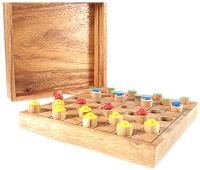 Checkers Set, Travel (Tactile)
Compact Game, Uses Pegs with Dots and Notches
Item Number: 6030
$14.95
Tell Me More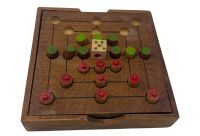 Chinese Checkers (Tactile)
Wooden, Two-Player Version with Dots on Green Pegs
Item Number: 1177
$13.95
Tell Me More