Chess Set, Classic (Tactile)
Dot on White Men, Pieces Fit Snugly into Board
Item Number: 1171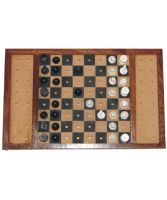 Larger Picture
Learn How to Play Chess
Product Features
Wooden playing board with 32 plastic men.
Each white playing piece has a tactile dot on top.
Playing pieces are shaped differently to aid in tactile identification.
A peg on the bottom of each piece fits snugly into the board, so they can be felt during game-play.
Black squares on the board are raised to help track diagonals.

Product Description:
Here's an elegant full-sized, completely tactile chess set for blind and visually impaired players - and their sighted friends and families. First of all, the large 9" X 13" wooden board is beautifully hand-painted with brightly contrasting colors for the black and white squares. What's more, the black squares are raised to make it a snap for anyone playing the game by touch to tell them apart from the white squares. And each square itself has a hole in the center, which the peg at the bottom of each piece snugly fits into. (This ensures that no chessmen will ever get knocked over or end up on the wrong squares.) At each end of the board are two capture rows - for you to use in storing and showing off your opponent's fallen men. The sturdy, plastic chess pieces themselves are shaped differently, too; so it's easy to tell a pawn from a knight or the rook from the almighty king. Plus ... you guessed it ... each white piece has a large dot on the very top so that blind players can easily "see" whether each piece is theirs or their opponents.
Chess is such a widely played game that no one should ever be without a chess set. And since you don't even need to know a single letter of the Braille alphabet to play our version of the game with a friend, anyone who's just lost their sight will still be able to play the game they've always loved ...
Measures about 14 in. by 9 in. by 1 in.
Package Weight: about 1.6 pounds.
(From the Board Games shelf.)
Related Products:

Replacement Chess Men, Classic (Tactile)
Spair, Complete set of Men for Classic Chess Set
Item Number: 1172
$6.95
Tell Me More