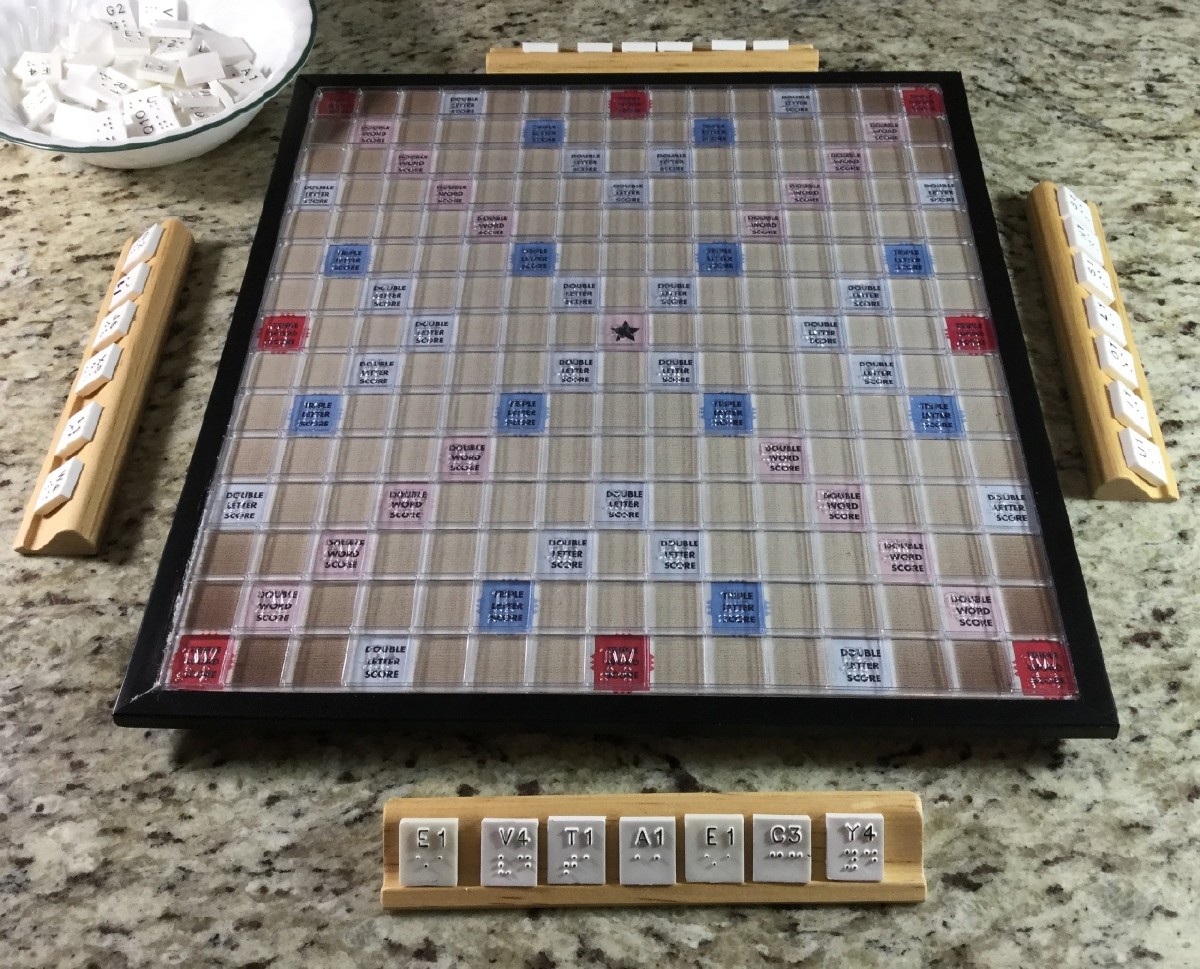 Braille Scrabble
Item Number: 1167
Product Features
A great, stimulating crossword game.
Designed for all ages, both blind and sighted players.
Features raised print and Braille on the board and letter tiles.
Boasts a rotating board 15" across.
Includes 4 letter racks, a thick score pad, and printed rules.
Package Weight: about 3.2 pounds.
Product Description
"TRIPPLE WORD! And one with a Z in it, at that! Yahoo! I'm gunna win for sure this time!"
Okay, so even if an exclamation like that is somewhat rare in Scrabble, it at least speaks to the sheer pleasure and enjoyment this word-making, mind-bending game has been bringing to families the world over since its inception in 1948. Scrabble isn't just for kids, either; children and adults of all ages enjoy sitting down to a stimulating crossword game such as this. But perhaps the numbers speak best for themselves: one out of every three American households has some form of Scrabble!
All right! Now that you're all excited about the Scrabble phenomenon, it's time to get involved! And what better way to do that than by trying out our deluxe Scrabble set, complete with print and Braille on the board and letter tiles? The rotating board itself is over fifteen inches across, and is on a turntable, meaning each player can spin the board around to face them so you're always looking at the board from the right angle. All those sought-after squares (like DL, TL, and DW) are clearly marked in both Braille and raised print. Naturally, the letter tiles also have large, raised-print and Braille letters on them, enabling blind, visually impaired, and sighted friends and family members to all play together. Of course, all those other Scrabble necessities are also included, such as four letter racks, a thick score pad, and print rules and instructions.
Ask a Question About this Product
(From the Board Games shelf.)
Related Products:
Deluxe All-Wood Set, Bear Off All Your Men First
Item Number: 1164
$24.95
That Classic Real Estate Trading Game - Brailled
Item Number: 1166
$149.95