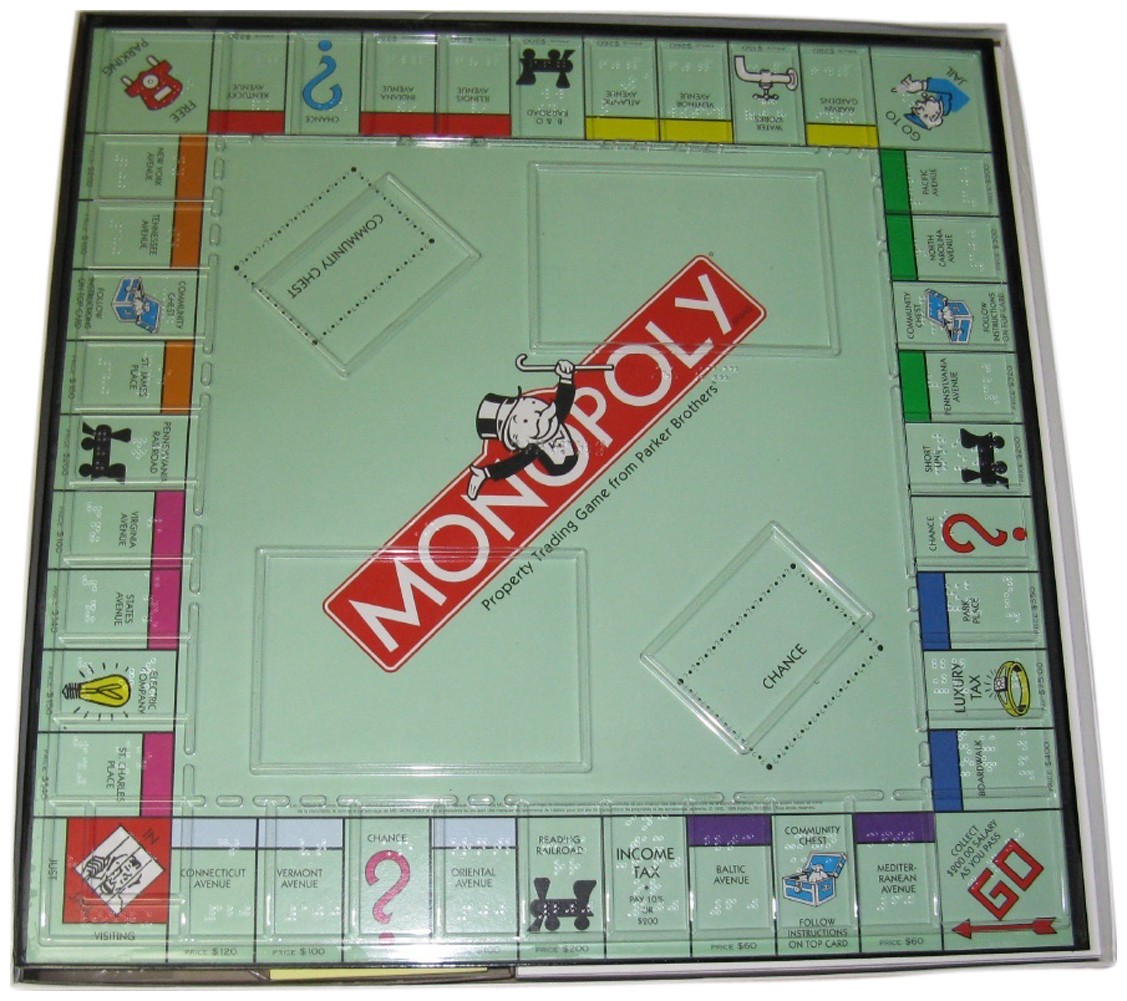 Braille Monopoly
Item Number: 1166
Product Features
Great game for both blind and sighted players.
Jumbo-sized; beautifully adapted.
Game board, dice, cards, and money are all in large print and Braille.
Has a 20" square playing board.
Hours of fun and strategy.
Package Weight: about 4.8 pounds.
Product Description
If you were to get a whole group of people together, and survey them one-by-one about their favorite board games, the results are fairly predictable. You'd likely be hard-pressed to fine one in ten game enthusiasts who doesn't have fond memories of playing Parker Brothers' classic real estate buying and selling game with their family growing up. What's more, most folks would probably tell you that Monopoly is one of their favorite games (if not number one on their list). For our part, everybody here just loves to pull out a good old Monopoly set for those cozy game nights with family and friends. Our tradition is well-intrenched: trying to become the world-famous tycoon, all the while gathered around a crackling fire, roasting marshmallows, sipping hot chocolate ... okay, okay; you get the idea!
Here, then, is that time-honored real estate game, beautifully adapted so that blind or low vision players can join in, too. Every aspect of Monopoly (from the game board to the dice to the cards and money) is jumbo-sized with large print and Braille. The twenty-inch square playing board has a special overlay molded onto it, meaning that each property or space is marked with large type and Braille. The title deeds, Community Chest, and Chance cards are also big enough to accommodate reproducing all information in its entirety in Braille and large print. To round off this impressive package, we've included a pair of tactile dice with bold, black dots, along with an instruction booklet in ink-print.
Ask a Question About this Product
(From the Board Games shelf.)
Related Products:
Deluxe All-Wood Set, Bear Off All Your Men First
Item Number: 1164
$24.95
World-Famous Crossword Game - Adapted with Braille
Item Number: 1167
$114.95