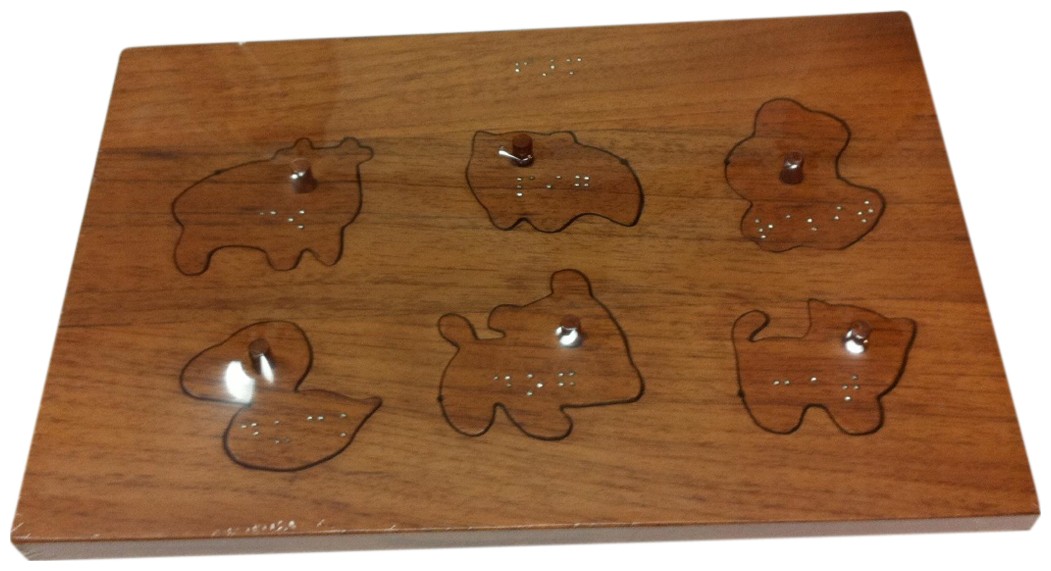 Braille Preschool Puzzle
Item Number: 2039 Numbers
Item Number: 2039-1
Contains 10 numbers, with ten bonus sliding beads at the top.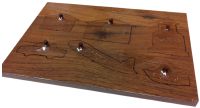 City
Item Number: 2039-2
Contains six pieces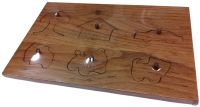 Country
Item Number: 2039-3
Contains six pieces
Contains six pieces
Product Features
Wooden puzzles are solid and durable.
Features hand-painted and polished puzzle pieces with name Brailled on each piece.
Each piece fits into its own section on board.
Boards are rectangular or square.
Fun-filled and highly educational.
Choose from 4 different preschool puzzles.
Package Weight: about 14.3 ounces.
Product Description
Regularly $13.95, on close-out sale for a limited time!
We can't count the number of times folks have asked us what to get their child's friend for his or her birthday party. Very few if any games at regular toy stores can be used by blind children. Even puzzles, the favorite tool of teachers and parents alike, are often ruled out, being pretty tough for those of us who can't see the whole board to know what the object is, let alone fit the tiny pieces into the proper place. And that's unfortunate, because puzzles done right are fun for absolutely everyone!
Each of the puzzles in our Preschool Puzzles set are made of solid, unbreakable wood, hand-painted and polished to gleaming perfection. Each piece fits into its own section on the board, so the puzzle can be put together in any order. Plus, each piece has its name Brailled on it, so kids know not only what it is but which way to fit it into the board. The wooden boards themselves are rectangular or square, and boast hours of fun for individual or large-group play.
Please note that your new puzzle may have slight irregularities in the Braille, as the dots are hammered into the wood with metal pegs by hand.
Related Products:
Full-Color, Braille Cards for Beginning Readers
Item Number: 1190
$11.95 Available Sets: Alphabet, Numbers, Wild Animals, Birds, Body Parts, Flowers, Vehicles, Shapes and Colors, Action Words, or the Entire Set (for $99.95)