Learning Flash Cards (Brailled)
Item Unavailable.
We don't know when or if this item will be back in stock.
Small Colorful Braille Cards for Beginning Readers
Item Number: 1210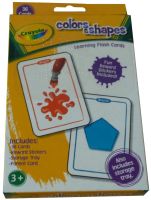 Larger Picture
Product Features
Laminated 3" by 5" durable cards.
Features colorful picture on front and word on back.
Print/Braille cards; Braille is written on both front and back.
Great teaching tool.
Works well for blind and sighted adults and children.

Product Description:
For families who like to take school on the road, this portable set of learning tools may be just what you're looking for. Each set of Print/Braille cards comes in a box that opens at the end, meaning no rubber-bands are needed to keep the box self-contained.
The cards themselves are the size of a 3" by 5" index card, though naturally they're thicker and laminated for years of enjoyment. And, as with our other sets on this shelf, each card sports full-color printing and raised Braille labeling so everyone can play and learn.
Each flash card in these sets has the picture on the front, and the word on the back. Of course, both sides are carefully marked with Braille.
This set teaches Colors and Shapes. Teach youngsters the name and look of common colors around them with this useful set of flash cards. Particularly well-suited to blind parents or care-givers of sighted children, these cards serve as an invaluable learning tool for young, inquiring minds. Since the color is both shown and indicated in braille on each card, even a totally-blind adult can use these cards to point out the names of colors to children with full or partial vision.
(From the Flash Cards shelf.)