Braille Pocket Token
Unique Coin with Raised Picture and Braille Word
Item Number: 1219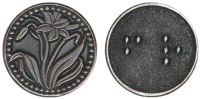 Larger Picture
Product Features
Tokens present a well-crafted tactile picture and a raised Braille word.
Made of unbreakable, polished metal.
Each coin is the size of a quarter.
A wildly popular and thoughtful gift.

Product Description:
Probably the most popular item in our entire gift shop, this durable, metal pocket token is about the size of a quarter. On the front is a colorful, entirely tactile picture that's easy to identify by touch. And on the back, in perfectly-formed Braille dots, appears the word of your choice.
Perhaps best of all, we have four kinds of pocket tokens to choose from. So, whether you'd just like to lift your friend's spirits a little, or wish to give a loved-one something extra-special for them to carry around, we think this'll be a mighty fine choice. Our Braille pocket tokens truly are a timeless piece to keep in your pocket or purse forever!
Measures about 1 in. in diameter
Package Weight: about 0.3 ounces.
We carry four different kinds of pocket tokens. Here they are.
Friend
Item Number: 1219-1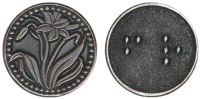 Has a tactile daffodil on the front.
Love
Item Number: 1219-2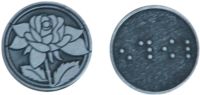 Has a raised rose on the front.
Faith
Item Number: 1219-3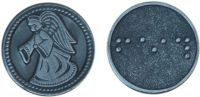 On the front is a fully-embossed Heavenly angel in a flowing robe (silver in color) with outstretched wings and folded arms.
Lord
Item Number: 1219-4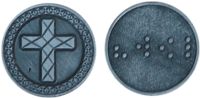 Complete with a raised and easily-identifiable cross on the front.
Entire Set
Item Number: 1219-5
Pick up all four of our cool tokens, and save a dollar in the process.
Continue Shopping
(From the Braille Novelties shelf.)
Related Products: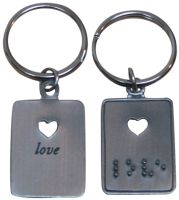 Braille Keychain
Sturdy Metal Keychain with Braille and Print Word
Item Number: 1218
$4.95
Available Words: Love, Live, Peace, Hope, Faith, Jesus, or the Entire Set (for $24.95)
Tell Me More

Braille Letter Opener
Adorible, Cat-Shaped Handle, Saying Keep in Touch
Item Number: 6052
$4.95
Available Styles: Keep in Touch, or Best Friend
Tell Me More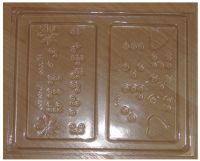 Braille Chocolate Mold
Make Your Own Braille Chocolate Cards
Item Number: 1220
$4.95
Available Messages: Happy Birthday and Love You, Have a Nice Day and Thank You, Merry Christmas and Happy Holidays, or the Entire Set (for $12.95)
Tell Me More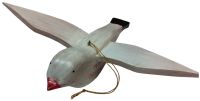 Braille Mantel Piece Ornament
Large, Free-Standing, Hand-Carved Decoration
Item Number: 6051
$9.95
Available Messages: Merry Christmas, Season's Greetings, Let there be Light, or the Entire Set (for $19.95)
Tell Me More